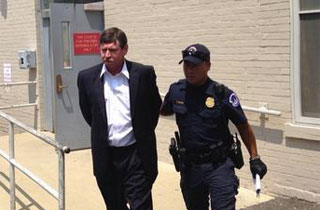 A bacon lobbyist was arrested this morning for attempting to bring a 9mm handgun into a Congressional office building — the second time someone's been arrested for the same offense in the past seven days.
Ron Prestage, the president-elect of the National Pork Producers Council (NPPC), was taken into custody this morning after attempting to bring a 9MM Ruger handgun into the highly secure Cannon House Office Building on the Capitol complex, shutting down the entrance for 20 minutes. Roll Call found that Prestage, who was appointed to lead the pork interest group in March of this year, had a concealed-carry permit in South Carolina. (Washington, D.C. does not currently allow concealed-carry permits, for obvious reasons: there are too many high-level government officials running around, and they all hate each other.)
Last Friday, one week that a GOP press secretary was arrested for attempting to bring a gun into the Capitol, which, really guys, don't do that. Do we have to repeat ourselves?
To be fair, we're tickled pink by the concept of a bacon lobbyist with a gun. And yes, Prestage is a bacon lobbyist: the NPPC represents pork producers nationwide and lobbies federal and state government on agricultural, food safety, and environmental issues, to "[establish] the U.S. pork industry as a consistent and responsible supplier of high-quality pork to the domestic and world markets." America's greatest pork product is bacon; therefore, the NPPC must protect its bacon interests, particularly against inferior Canadian bacon. ('Merica.)
[h/t Roll Call]
[Image via Paul Wagner/Twitter]
—
>> Follow Tina Nguyen (@Tina_Nguyen) on Twitter
Have a tip we should know? tips@mediaite.com