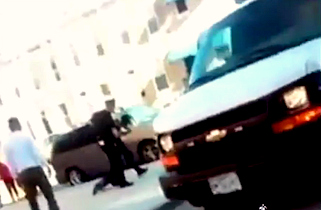 25-year-old Freddie Gray died Sunday of spinal wounds sustained while in the custody of Baltimore Police, an incident that is now being investigated at multiple levels by the city.
The arrest occurred one week ago. Video released on YouTube shows Gray screaming in pain as police officers drag him to the van, and there is a dispute over how much time elapsed before Baltimore Police sought medical help. Via CBS Baltimore:
According to a timeline provided by Baltimore Police, at 8:54 a.m. Gray was put in additional restrains inside the van. But, at 9:24 a.m., he was rushed to the hospital–attorneys say his spine was 80 percent severed at his neck where three bones were broken. He later lapsed into a coma and died Sunday morning at approximately 7:00 a.m.
"His leg look broke," a bystander is heard to yell. "Y'all are dragging him like he's dead."
"What we know is that while in police custody for committing no crime — for which they had no justification for making the arrest except he was a black man running — his spine was virtually severed, 80 percent severed, in the neck area," said Billy Murphy, attorney for Gray's family, per the Baltimore Sun. Murphy added that Gray "lapsed into a coma, died, was resuscitated, stayed in a coma and on Monday, underwent extensive surgery at Shock Trauma. He clung to life for seven days."
Police are not revealing why Gray was arrested or how he incurred his injuries, citing an ongoing investigation. Protesters have marched in the area demanding greater response from the city.
"I understand the frustration of the community and I take very seriously my obligation of transparency," Mayor Stephanie Rawlings-Blake said. "However we also have to balance that with our obligation to ensure a proper and thorough investigation is undertaken. Therefore we have to move forward in a responsible way to determine all the facts of this incident so that we can provide the community with answers."
Watch the clip below, via YouTube:
[h/t Baltimore Sun]
[Image via screengrab]
——
>> Follow Evan McMurry (@evanmcmurry) on Twitter
Have a tip we should know? tips@mediaite.com