Barney Frank On His Trayvon Martin Joke: 'I'm Troubled By The Hypersensitivity'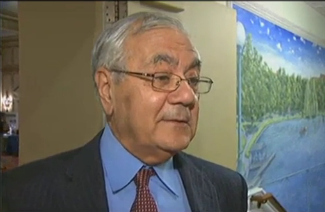 Several days after Rep. Barney Frank (D-MA) made a provocative joke at UMass Dartmouth's commencement ceremony, the retiring congressman spoke to WHDH Boston about the criticism he has faced, saying that he is "troubled by the hypersensitivity" and he is "surprised people don't understand."
"When they give you an honorary doctorate they give you one of these […] I think you now got a hoodie you can wear and no one will shoot at you," Frank joked during his commencement address, referring to the fact that Trayvon Martin was shot and killed while wearing a hooded sweatshirt. Audience members reportedly gasped at the remark.
Frank did apologize for the joke, but this afternoon, he told WHDH that he was sorry people are so sensitive.
"It's a joke I've made three times about hoodies," he said. "This is the first time someone focused on it. And no, I think making jokes about serious issues to make a serious point is a good thing. And the notion that people are offended because you try to highlight something like that. I'm troubled by the hypersensitivity."
– RELATED: Rep. Barney Frank's Provocative Trayvon Martin Joke Shocks Commencement Audience
Frank also claimed this is not the first time he's made the joke, saying, "It was the third time I made that comment. It was a reference, which I'm surprised people don't understand, to the fact that one of the reasons Mr. Zimmerman gave for his suspicion of Trayvon Martin was that he was wearing a hood."
"By the way," Frank added, "most people that talked to me about it were not upset. So in a country of 300 million people, if a couple of thousand people say something, it doesn't mean a great deal."
My two cents: I'm with Rep. Frank in the sense that people need to calm down a little bit. But perhaps that's because I'm not easily offended. Though, I should note: Frank saying that he is "troubled by the hypersensitivity" is hysterical, considering the left has remarkable hypersensitivity to all things Trayvon-related.
Check out the clip below, via WHDH-Boston:
(H/T WHDH-Boston)
Have a tip we should know? [email protected]