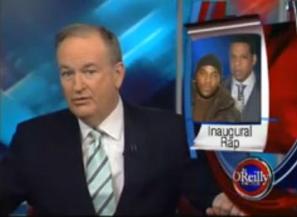 Who's beefing with Bill O'Reilly and Rush Limbaugh this week? Hip-hop icon Jay-Z.
In his newest song from his upcoming album, leaked today, "Off That" includes a line directed at the Fox News host and radio star.
Here's what Jay-Z says near the beginning of the second verse of "Off That":
This ain't black vs. white, my n—a, we off that. Please tell Bill O'Reilly to fall back. Tell Rush Limbaugh to get off my balls. It's 2010, not 1864. We come so far…How's that for a mix? Got a black president, got green presidents.
The O'Reilly jab likely comes as a response to a segment the FNC host did in January, chastising Jay-Z and Young Jeezy for comments they made at a Pres. Barack Obama inauguration celebration. The Limbaugh reference may have been a response to a less-than-favorable reference to the rapper in a speech Limbaugh made in December.
But the Fox News host has a long history of beefing with the hip-hop world (Jossip documents it here). It could have started in 2003, with O'Reilly's segment, "Is Gangsta Rap Hurting America's Children?"
It continued with a long-standing battle with Nas, who challenged the FNC host to a debate in 2007. (I went to a protest led by Nas outside the News Corp. building last summer in the wake of the hip-hop stars latest album, and attack on O'Reilly.)
O'Reilly is sure to respond, and probably Limbaugh. Jay-Z is a megastar – far beyond the world of hip-hop. The question is, how? The irony of the shout-out to O'Reilly is the song "Off That" deals with issues O'Reilly would likely support. Throughout the chorus, Drake raps about items they are "off" of, including many things O'Reilly would consider to be staples of the "gangsta rap" he often attacks. They are off "over-sized clothes and chains," "rims," "making it rain" and more.
Will O'Reilly continue the beef? It's more than likely. It can only help both sides – it promotes Jay-Z's album, and highlights the continued power of O'Reilly. Maybe NBC News will get a break this week.
Here's the new song (O'Reilly reference around 1:30):

Have a tip we should know? tips@mediaite.com