Ben Jealous Tells CNN's Don Lemon Why He's Stepping Down as President and CEO of NAACP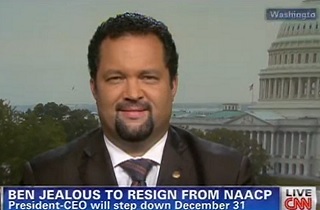 On Sunday, current President and CEO of the National Association for the Advancement of Colored People (NAACP) Benjamin Jealous announced he will be stepping down from the organization, which he has led since September 1, 2008. When he was elected as NAACP President in 2008, at age 35, Ben Jealous was the youngest person ever to serve in that capacity.
Mr. Jealous appeared on CNN Newsroom to explain, to anchor Don Lemon, why he's relinquishing leadership of the more than 100 year-old civil rights organization on December 31, and what's next for him.
Lemon began by expressing skepticism at the stock "family" excuse, saying it "sometimes. usually means someone got kicked out. I'm just being honest. I just saw you a week ago, you were very happy and I wondered why."
The 40 year-old Jealous told Lemon that his organization's chairperson asked him if he was being lured away from the organization. "I said yes, there is," Jealous said. "His name is Jack, and her name is Morgan."
He explained the toll being in a civil rights family had taken on him, and that he had promised his daughter, Morgan. "I told my daughter 4 and a half years ago, when she said 'When are you coming back, Daddy?'"
"Give me five years," Jealous says he told her. "I explained how important this organization was, that our family has belonged to for five generations. I had an important role to take it to the next level. Having done that, there was no excuse to not keep that promise to my daughter."
Lemon also asked Mr. Jealous what he sees as the biggest civil rights challenges to come. Jealous cited voting rights, and expressed confidence in "the leadership of John Lewis and Nancy Pelosi and Eric Cantor" to repair the sections of the Voting Rights Act that were struck down or invalidated by the Supreme Court. He also cited progress that his organization has made in areas like Marriage Equality, gun regulation, and access to the ballot box.
Here's the clip, from CNN:
[photo via screengrab]
Have a tip we should know? tips@mediaite.com