Benghazi Victim's Sister: Hillary's Lying, She Told Us YouTube Video Was to Blame
Benghazi Victim's Sister: Hillary's Lying...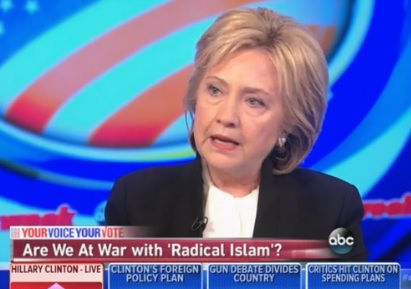 The sister of one of the victims of the 2012 Benghazi attack blasted Democratic presidential candidate Hillary Clinton Wednesday, accusing her of lying to the victims' families after the attack and lying later to cover up that fact.
Kate Quigley's remarks came after Clinton denied during an interview with ABC's This Week that she had ever told the victims' families that the Benghazi attack was due to an anti-Muslim video. "Did you tell them it was about the film?" host George Stephanopoulos asked.
"No," Clinton responded bluntly. "You know, look I understand the continuing grief at the loss that parents experienced with the loss of these four brave Americans. And I did testify, as you know, for 11 hours. And I answered all of these questions."
But Quigley, the sister of Glen Doherty, insists that Clinton did tell her the video was to blame, even though emails indicate Clinton knew at the time the video had nothing to do with it. "She knows that she knew what happened that day and she wasn't truthful," Kate Quigley said on Boston Herald Radio's Morning Meeting.
"This is a woman that will do and say anything to get what she wants. I have very little respect for her," she continued. "I know what she said to me and she can say all day long that she didn't say it. That's her cross to bear."
Three other family members of two of the other victims have also gone on the record saying Clinton blamed the attack on the YouTube video "The Innocence of Muslims" at the casket ceremony, and promised to throw the filmmaker in prison.
Listen above, via Boston Herald Radio.
[Image via screengrab]
——
>>Follow Alex Griswold (@HashtagGriswold) on Twitter
Have a tip we should know? tips@mediaite.com