Bernie Sanders Campaign Calls Hillary Clinton Nomination 'Courting Disaster'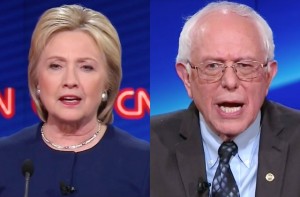 A recent raft of Quinnipiac polls in battleground states has become the subject of dueling fundraising emails from the Bernie Sanders and Hillary Clinton campaigns, emails which clearly illustrate the contours of the respective campaigns' electability arguments. On the one hand, you have Sanders campaign manager Jeff Weaver's hair-on-fire assessment that nominating Hilary Clinton means "court(ing) disaster in November:
"For months, Bernie Sanders has out-polled Hillary Clinton against Donald Trump, and often by extraordinarily large margins. Because we must do everything we can to defeat Trump in November, our mission is to win as many pledged delegates as we can between now and June 14," when the primary season ends, Mr. Weaver said. "Then we're going to have a contested convention where the Democratic Party must decide if they want the candidate with the momentum who is best positioned to beat Trump, or if they are willing to roll the dice and court disaster simply to protect the status quo for the political and financial establishment of this country."
On the other hand, Clinton campaign manager Robby Mook recently cited the same polls in a fundraising plea as evidence that Hillary needs more support to get the message out:
You know how I feel about public polls — they're erratic and unreliable, especially when you look at a general election match-up this far from Election Day. But a new poll came out yesterday of three key battleground states, and I need you to see it:

Florida: Clinton 43, Trump 42
Ohio: Clinton 39, Trump 43
Pennsylvania: Clinton 43, Trump 42
Source: Quinnipiac

I can't say this enough times: These polls don't predict the future. We can change them by making sure voters know about Hillary's vision for our country. But we need to get started RIGHT NOW.
The argument from Sanders and his supporters has been that even without a lead in pledged delegates, Superdelegates should consider general election polls that show Bernie doing better against Trump, while Hillary Clinton supporters argue that Bernie does better because he hasn't been attacked the way Hillary has, and that she's currently being attacked on two fronts.
Have a tip we should know? tips@mediaite.com