Biden's Staff Tried To Influence Reporting On His Virginia Trip, According To Report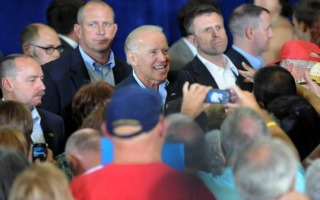 Buried on the second page of a Politico report on the difficulty that Vice President Joe Biden's handlers are having in managing the loquacious politician is the revelation that, twice during Biden's fateful visit to Virginia this week, his staff sought to influence his coverage in pool reports.

RELATED: Chris Cillizza Laughs Off Biden's 'Chains' Remark: Joe Just 'Embracing His Biden-ness'
In Politico's story from Thursday, "Mission Impossible: Managing Joe Biden," reporter Jonathan Martin notes that Biden's staff sought to influence reporters to include coverage of events that are otherwise unlikely to be covered.
But on two occasions during Biden's Virginia trip, his staff sought to have certain elements in the reports highlighted while reporters drafted them and discussed the contents with the reporters after the summaries had been sent but before they had before sent to the broader media.
Martin makes it clear that this is not common practice and makes it clear that the Obama campaign knows that Biden's coverage this week has been an unwelcome distraction.
Staffers spinning reporters to frame events the best they can is, of course, commonplace in politics. But attempting to intervene in the drafting of accounts that reporters share with one another is all but unheard of and reflects the deep concern Biden's team has about offering any fodder to the opposition.
"Biden officials emphasize how many off-schedule stops he makes on his campaign travels and, noting that that they let reporters hang around his visit to a high school football practice on Monday, point out that they were less restrictive before the "chains" comment," Martin writes.
Martin also reports that a Biden aide was noticed on Wednesday during a stop at the Virginia Tech campus eavesdropping on a reporter as he interviewed event attendees.
The Politico report shows how much the Obama campaign has increased their efforts to both control the Vice President as well as the coverage of Biden's campaign stops.
"Yet what the campaign doesn't seem to realize is that Biden is at his best when he's not being minded," writes Martin. He quotes one Democrat close to the campaign who says that Biden is best when he is given enough latitude to be genuine and spontaneous.
Pool reports, gathered by multiple reporting institutions to be distributed to other news organization, are designed to provide coverage of events which are prohibitively difficult for reporters to chronicle in detail due to lack of space or resources. They are often used as background material to inform the broader reporting of events.
h/t Politico
> >Follow Noah Rothman (@Noah_C_Rothman) on Twitter
Have a tip we should know? [email protected]