Bill Cosby Takes Some Major Hits at Justin Bieber Roast
Bill Cosby Burned at Bieber Roast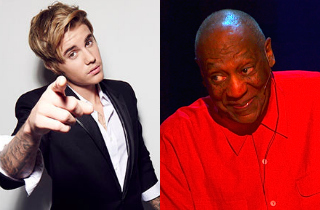 The Comedy Central roast of Justin Bieber might as well have been the roast of Bill Cosby. While Bieber undoubtedly took plenty of shots during Saturday night's taping (including from surprise guest Will Ferrell's Ron Burgundy), according to those in attendance, it was Cosby who was hit with some of the roughest jabs.
Part of the reason behind the Cosby pile-on was the presence of comedian Hannibal Buress, who helped spark the recent attention paid to the numerous rape allegations against the septuagenarian when he joked about them in his act last October.
Below are some of the best Cosby-related jokes from the big event, which will air Monday night, March 30 on Comedy Central:
Snoop Dogg: "Congratulations Hannibal Buress, you are only the Bill Cosby accuser making money off of him."

SNL's Pete Davidson: "Hannibal Buress is famous for exposing Cosby. He's only famous for exposing Bill Cosby. Bill Cosby hurt those women without ever caring about the consequences … that Hannibal Buress would become famous."

Hannibal Buress: "Justin, I don't like your music. I think it's bad, man. I hate your music. I hate your music more than Bill Cosby hates my comedy."
As for Ron Burgundy, he decided to defend the young pop star. "Listen, I'm going to cut to the chase, Justin Bieber. You've been taking it on the chin tonight. In fact, absolutely abused," he told the crowd. "I'm here to say one thing, you people don't know what the hell you're talking about. As far as I am concerned, this guy is doing it right."
"If anything, Justin Bieber, not only do you need to continue to live your life with the same reckless abandon, I suggest you even turn up the heat," he added.
[Photos via Comedy Central]
— —
>> Follow Matt Wilstein (@TheMattWilstein) on Twitter
Have a tip we should know? tips@mediaite.com