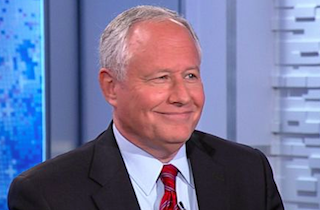 Back in June, when the Donald Trump show was just getting underway, Weekly Standard editor Bill Kristol said that Republicans "need to learn from his message — the nationalism, the kind-of candor, the willingness to embrace Middle America." The following month, he urged GOP candidates to "incorporate what is healthy about the Trump message."
But after Trump started to discount Sen. John McCain's "war hero" status, Kristol turned on the GOP frontrunner. "He's dead to me," he said on ABC's This Week in July, less than 24 hours after he called Trump "wiser" than Hillary Clinton. Later that week, the two men were going at it on Twitter.
If you thought Trump could not fall any lower in Kristol's estimation, he has now told CNN that despite his prominent role as part of the Republican establishment, he will be looking for a third-party candidate should Trump get the party's nomination.
"I doubt I'd support Donald. I doubt I'd support the Democrat," Kristol said on Tuesday. "I think I'd support getting someone good on the ballot as a third party candidate."
So while Trump has signed the Republican National Committee's "loyalty pledge," vowing not to run as a third-party candidate in 2016, Kristol is not willing to make that same commitment to the party.
As for who he wants to run on an independent ticket, Kristol proposed the dynamic — and very-much Republican — duo of former Vice President Dick Cheney and Senator Tom Cotton. He's even promoting their non-existent website on Twitter:
On the Cheney-Cotton 2016 front (http://t.co/LMRZ9bB1CX), Cheney & Cotton spoke at AR GOP event last night. Were seen in private convo…

— Bill Kristol (@BillKristol) September 15, 2015
[Photo via screengrab]
— —
>> Follow Matt Wilstein (@TheMattWilstein) on Twitter
Have a tip we should know? tips@mediaite.com