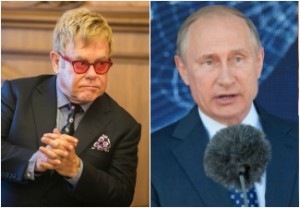 Sir Elton John confirmed on Tuesday that he and Russian President Vladimir Putin spoke with one another via telephone, and that they would soon meet in person to discuss the latter's opinion of LGBT rights — or the lack thereof.
No really, this is going to happen. These two guys actually spoke with one another, and now they're going to be in the same room together.

The internationally renowned musician confirmed the phone call and the meeting with an Instagram post on Tuesday. John thanked Putin "for reaching out and speaking via telephone with me," and said he looked "forward to meeting with you face-to-face to discuss LGBT equality in Russia."
This all stems from a BBC interview John gave over the weekend from the Ukraine, where he spoke at the Yalta European Strategy meeting.
"I would like to meet [Mr Putin]," he told the British news agency. "It's probably pie in the sky… He may laugh behind my back when he shuts the door, and call me an absolute idiot, but at least I can think I have the conscience to say I tried."
Fun fact — this is the same conference that GOP presidential candidate Donald Trump spoke at, or at least tried to, on Friday. Unlike Trump, who did the deed via video link, John was physically there. Begs the question, what did Sir John think of the Donald's presidential prowess?
Update- 10:59 pm EST: The Kremlin has denied the call took place:
Mr. Putin's press secretary, Dmitri S. Peskov, said late on Tuesday that Mr. Putin had never spoken to Mr. John. "This does not correspond to reality. There was no conversation," Mr. Peskov told journalists.
[h/t CBS DC]
[Image via Shutterstock.com]
— —
>> Follow Andrew Husband (@AndrewHusband) on Twitter
Have a tip we should know? [email protected]