Bill Maher: Donald Trump 'Genius' Because 'He Doesn't Apologize For Anything'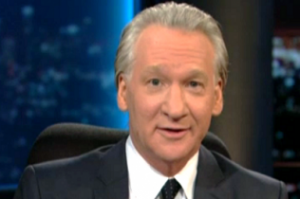 During an interview ahead of his upcoming weekend comedy show in Charleston, South Carolina, Real Time host Bill Maher called Donald Trump a "genius" because "he doesn't apologize for anything."
I know what you're thinking. "This silly blogger is just taking a quote out of context, cherry-picking the parts he likes and making Maher look bad, Trump look good or both."
Sure, that's not the entire quote, but it still stands that the very progressive Maher called the incendiary, trollishly conservative businessman a genius. Here's the quoted passage in full, courtesy of the Charleston Post and Courier:
"Even though I don't agree with everything Donald Trump says by far, it is sort of refreshing to have a politician who isn't always walking everything back and who isn't completely pre-programmed," Maher said. "That's his genius, he doesn't apologize for anything. He's the king of brushing things off his shoulder. And this is what's attractive about him, I have to say, as somebody who did a show called Politically Incorrect, who was always being criticized for speaking too honestly."
Maher goes on to praise Trump as the "anti-Mitt Romney" due to his lack of roboticism. That is, Trump doesn't respond to questions and comments with pre-written answers or programmatic gestures. He's just himself, which means Trump is loud and proud.
However, Maher's nice words aren't an endorsement, as he's not even sure Trump will ever gain the GOP nomination ahead of the 2016 election. Plus, the talk show host is sure neither Trump, Bernie Sanders nor anyone else "is going to beat Hillary Clinton."
[h/t The Hill, Charleston Post and Courier]
[Image via screengrab]
— —
>> Follow Andrew Husband (@AndrewHusband) on Twitter
Have a tip we should know? [email protected]