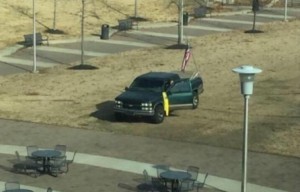 An active shooter situation has been reported on the campus of Arkansas State University in Jonesboro.
According to the university's official Twitter account, "an active shooter" had been "spotted at the student union." The same tweet advised everyone in the facility to "evacuate to the west side of the building and clear the area."
Minutes later, CNN's AnneClaire Stapleton tweeted that the suspect was a male who had apparently driven "onto campus with a gun." He was "surrounded by officers" and no shots had been fired. Despite this, campus was still on lockdown.
The university's official Twitter account subsequently confirmed this.
Watch live coverage from KMC-5 below.
UPDATE–3:02 p.m. ET: Students reported receiving text messages from the university's campus alert system.
Meanwhile, others posted photos from the alleged gunman's standoff with police. The individual is driving a green Chevrolet with an American flag attached to the back of it.
The Associated Press reports a university spokesperson confirmed the standoff, and that no shots had been fired.
UPDATE–3:13 p.m. ET: KMC-5 reports that the suspect drove through a security barrier to drive onto campus. In addition to a gun, he's also armed with a tank of gas.
Mark Smith of the campus KASU radio station told the station that reports indicated the man was in "protest mode" and was shouting at police.
UPDATE–3:49p.m. ET: Another photo of the suspect's green Chevrolet has popped up on Twitter. There appears to be some sort of yellow cloth or flag draped across the front windshield.
UPDATE–3:54 p.m. ET: Arkansas State University's Twitter account reports the suspect has been placed in custody. Even so, the campus remains on lockdown.
Mediaite will update this post as more information becomes available throughout the day.
[Image via Twitter]
— —
>> Follow Andrew Husband (@AndrewHusband) on Twitter
Have a tip we should know? tips@mediaite.com