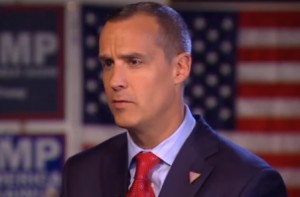 Editor's Note: Based on information from a high level CNN source, we initially reported that Corey Lewandowski was suspended from CNN. CNN has now gotten back to us and firmly denied that Lewandowski has been suspended, and said that he will be on air later today. We regret what now appears to have been an error and have made changes accordingly, but stand by our reporting that Lewandowski was pulled off the air this morning because of the brewing controversy.
What's confusing is some cnners were confirming reports of suspension to me https://t.co/LZgXncsaiW

— Hadas Gold (@Hadas_Gold) September 21, 2016
In the words of Mark Twain "the reports of my death are greatly exaggerated." Will be on @CNN today during the 3:00 PM hour. Tune in!

— Corey R. Lewandowski (@CLewandowski_) September 21, 2016
— —
Mediaite has learned that Corey Lewandowski, the former embattled campaign manager for the Trump campaign who joined CNN as a political contributor on June 23rd, has been pulled, at least temporarily, by the cable news net. This comes on the heels of the revelation that Lewandowski was still being paid by the Trump campaign. The question now, was it just severance or something more.
According to our source, Lewandowski was stopped from appearing on CNN's New Day this morning.
FEC filings from the months of July and August reveal that the Donald Trump campaign gave Lewandowski's Green Monster Consulting company $20,000 for what was listed as "strategy consulting."
Lewandowski was released from his role as campaign manager on June 20, then quickly joined CNN within days. FEC filings however reveal that the $20,000 in consulting fees were paid to Green Monster in the months following his ouster.
Many CNN staffers were reportedly incensed when Lewandowski was hired by the network; Page Six at the time wrote, "CNN is facing a near internal revolt over the Corey hiring," and another staffer in the building put it more bluntly: "Everyone at CNN — and even people who used to work there — are pissed about Trump's former campaign manager being hired on salary."
During his first official network appearance on June 23, Lewandowski promised CNN and its viewers, "I will tell it like it is." According to reports at the time, the 43-year-old Lewandowski signed a Non-Disclosure Agreement with the campaign after his firing, though he emphatically denied it doing so. Lewandowski brought a string of controversies and negative headlines to the campaign during his time there, stemming largely from an altercation with then-Breitbart reporter Michelle Fields at a Trump campaign event at the Mar-a-Lago in Florida on March 8. The campaign manager faced battery charges at the time that were eventually dropped.
This information is developing, and we have reached out to CNN for comment.
UPDATED: 10:36 a.m. EST: The Donald Trump campaign reached out moments ago with the following statement from Hope Hicks regarding Lewandowski's status:
"Corey Lewandowski, who is no longer involved in the campaign, continues to receive monthly severance payments. The campaign will continue to honor its contract with Mr. Lewandowski, which stipulates he will be paid through the end of the year. These payments are in no way compensation for services rendered."
—
J.D. Durkin (@jiveDurkey) is an editorial producer and columnist at Mediaite.
Have a tip we should know? tips@mediaite.com