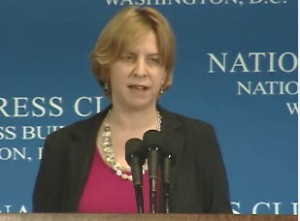 Well it is officially a bad week for individuals named Schiller who used to work for NPR. First there was Ron Schiller, who was caught in a hidden camera video sting making negative comments about conservatives and Tea Partiers, and now NPR's Media Reporter David Folkenflik has revealed via Twitter that CEO Vivian Schiller (no relation to Ron) has been forced out by the board at NPR because of this controversy.
NPR released the following statement:
"It is with deep regret that I tell you that the NPR Board of Directors has accepted the resignation of Vivian Schiller as President and CEO of NPR, effective immediately.

"The Board accepted her resignation with understanding, genuine regret, and great respect for her leadership of NPR these past two years.

"Vivian brought vision and energy to this organization. She led NPR back from the enormous economic challenges of the previous two years. She was passionately committed to NPR's mission, and to stations and NPR working collaboratively as a local-national news network.

"According to a CEO succession plan adopted by the Board in 2009, Joyce Slocum, SVP of Legal Affairs and General Counsel, has been appointed to the position of Interim CEO. The Board will immediately establish an Executive Transition Committee that will develop a timeframe and process for the recruitment and selection of new leadership.

"I recognize the magnitude of this news – and that it comes on top of what has been a traumatic period for NPR and the larger public radio community. The Board is committed to supporting NPR through this interim period and has confidence in NPR's leadership team."
Schiller has had a rough few months given the numerous controversies that have surrounded NPR under her watch. Last year Schiller received criticism for her handling of former NPR commentator Juan Williams, who was fired from the public radio outlet after making candid comments about Muslims at airports. Since then, Williams has become a very vocal critic of his former employer and seemed to fan the flames of anger towards the federally funded outlet that had for a long time flown under the radar of public opinion media.
The most recent controversy, which appears to have been her undoing, was a hidden camera sting produced by James O'Keefe, the controversial independent filmmaker, that arranged a lunch between Ron Schiller, a former development executive, and two actors hired to act like Islamic philanthropists. The video reveals Schiller dismissing an uneducated conservative base, and while he had no hand in editorial matters at NPR, the video revealed to many an elitist point-of-view that seemed impolitic for an ostensibly unbiased media outlet that receives Federal funding.
Folkenflik reported the news via Twitter, before reporting the news on the NPR program Morning Edition.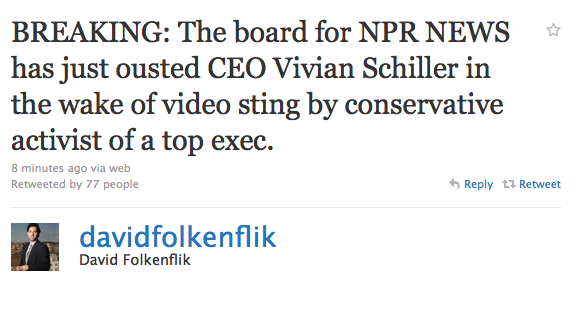 Developing…
Have a tip we should know? tips@mediaite.com
Colby Hall - Founding Editor