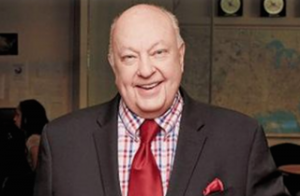 21st Century Fox revealed today that Fox News Chairman & CEO Roger Ailes is resigning.
This has been in the works for weeks now, following a sexual harassment lawsuit filed by Gretchen Carlson. Ailes fired back against the lawsuit and had a lot of internal support, but Megyn Kelly told investigators Ailes once sexually harassed her, and the last few days have been a whirlwind of serious negotiations about Ailes' exit.
The statement below does not feature quotes from Ailes nor does it explain why they've come to this decision. Rupert Murdoch will step in as Chairman and acting CEO.
Here is the full statement:
21st Century Fox today announced that Roger Ailes, Chairman and CEO of Fox News Channel and Fox Business Network, and Chairman of Fox Television Stations, has resigned from his role effective immediately.

Rupert Murdoch will assume the role of Chairman and acting CEO of Fox News Channel and Fox Business Network.

Rupert Murdoch, Executive Chairman, 21st Century Fox, said:

"Roger Ailes has made a remarkable contribution to our company and our country. Roger shared my vision of a great and independent television organization and executed it brilliantly over 20 great years.

Fox News has given voice to those who were ignored by the traditional networks and has been one of the great commercial success stories of modern media.

It is always difficult to create a channel or a publication from the ground up and against seemingly entrenched monopolies. To lead a flourishing news channel, and to build Fox Business, Roger has defied the odds.

His grasp of policy and his ability to make profoundly important issues accessible to a broader audience stand in stark contrast to the self-serving elitism that characterizes far too much of the media.

I am personally committed to ensuring that Fox News remains a distinctive, powerful voice. Our nation needs a robust Fox News to resonate from every corner of the country.

To ensure continuity of all that is best about Fox News and what it stands for, I will take over as Chairman and acting CEO, with the support of our existing management team under Bill Shine, Jay Wallace and Mark Kranz."

Lachlan Murdoch and James Murdoch, 21st Century Fox's Executive Chairman, and CEO, respectively, said:

"We join our father in recognizing Roger's remarkable contributions to our company. Our talented Fox News and Fox Business colleagues, up and down the organization and on both sides of the camera, have built something that continues to redefine the cable news experience for millions of viewers. We are enormously proud of their accomplishments. For them, as well as for our colleagues across our entire organization, we continue our commitment to maintaining a work environment based on trust and respect. We take seriously our responsibility to uphold these traditional, long-standing values of our company."
UPDATE –– 4:26 pm EDT: Matt Drudge has posted what appears to be Ailes' letter to Murdoch:
Dear Rupert,

With your support, I am proud that we have built Fox News and Fox Business Channels into powerful and lucrative news organizations that inform our audience and reward our shareholders. I take particular pride in the role that I have played advancing the careers of the many women I have promoted to executive and on-air positions. Many of these talented journalists have deservedly become household names known for their intelligence and strength, whether reporting the news, fair and balanced, and offering exciting opinions on our opinion programs. . Fox News has become Number 1 in all of cable because I consistently identified and promoted the most talented men and women in television, and they performed at the highest levels.

Having spent 20 years building this historic business, I will not allow my presence to become a distraction from the work that must be done every day to ensure that Fox News and Fox Business continue to lead our industry. I am confident that everyone at Fox News and Fox Business will continue as the standard setters that they are, and that the businesses are well positioned for even greater success in the future.

I am proud of our accomplishments and look forward to continuing to work with you as a consultant in building 21st Century Fox

All the best,

Roger.
[image via screengrab]
— —
Follow Josh Feldman on Twitter: @feldmaniac
Have a tip we should know? tips@mediaite.com
Josh Feldman - Senior Editor