'But His Emails': Twitter Reacts to Bombshell New York Times Report on Trump Jr.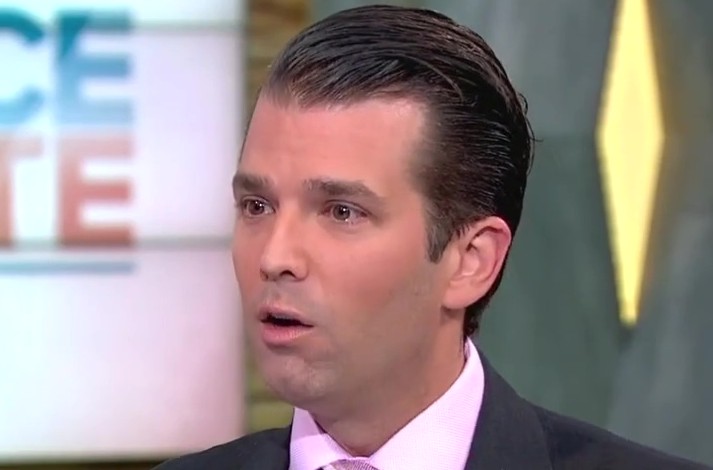 Media Twitter was cranked up to 11 after the news dropped that Donald Trump Jr. met with a Kremlin-affiliated lawyer because he was told the Russian government wanted to offer him dirt on Hillary Clinton.
Trump Jr. has taken heat in recent days due to his changing stories about the meeting, and also because President Trump's son set it up after being told it could help his father damage his opponent. Tonight's report from the New York Times states Trump Jr. received an email about how the information he would allegedly receive came from the Russian government as part of their efforts to help his dad.
This being the case, media observers are viewing this as a major development for the ongoing investigations into Russia's interference with the 2016 election:
There's no spinning this: pic.twitter.com/HyHqGybl5g

— Joy Reid (@JoyAnnReid) July 11, 2017
When #BreakingNews breaks and you just can't even anymore… pic.twitter.com/liaIMxsnw4

— SalenaZito (@SalenaZito) July 11, 2017
Crazy this was all ommitted by Kushner initially and he still has a high-ranking job

— Gideon Resnick (@GideonResnick) July 11, 2017
Out: But her emails
In: But his emails

We deserve this.

— Josh Jordan (@NumbersMuncher) July 11, 2017
BREAKING: Upon learning of Trump Jr.'s Russia email, House Oversight Chair Trey Gowdy immediately scheduled a hearing on Benghazi.

— Ian Millhiser (@imillhiser) July 11, 2017
The Trump Team's "We're stupid and never ran a campaign before" defense falls apart because campaign vet Paul Manafort was in the meeting.

— Joe Scarborough (@JoeNBC) July 11, 2017
2016: But her emails!
2017: But….HIS emails!

It's the circleeeee of lifeeee ??

— Philip Lewis (@Phil_Lewis_) July 11, 2017
I'm holding off on the four-alarm fire treatment because there are still many unanswered Q's. But 'nothingburger' spin just died. 4/

— Guy Benson (@guypbenson) July 11, 2017
Don Jr. before meeting the Russkies: pic.twitter.com/JoVqTd8CYG

— Ross Douthat (@DouthatNYT) July 11, 2017
Tiffany would have at least deleted the email

— Igor Bobic (@igorbobic) July 11, 2017
HE PUT A DESCRIPTION OF THE CONSPIRACY IN AN EMAIL !!! ?????????????????????????????????????????

— Christopher Hayes (@chrislhayes) July 11, 2017
Will Republicans NOW go on TV saying they would take the meeting if they knew it was part of Russian attempt to collude to elect Trump? https://t.co/UDy3S4bySI

— Joe Scarborough (@JoeNBC) July 11, 2017
In light of NYT's latest, remember:

Don Jr's first statement didn't disclose real reason for meeting: Offer of damaging info on Clinton.

— Greg Sargent (@ThePlumLineGS) July 11, 2017
If this NYT reported Donald Jr. email is real, dude. Not good. pic.twitter.com/6s86QrheHW

— Ben Shapiro (@benshapiro) July 11, 2017
Just when you think story couldn't get more explosive; they literally have an email saying "Russia wants to elect your dad. Can we meet?"

— Michael Ian Black (@michaelianblack) July 11, 2017
i can't decide if i'm more blown away by the actual substance or by don jr's world-class stupidity.

— Jamelle Bouie (@jbouie) July 11, 2017
DNC responds to report about DJTJ: "This isn't just smoke anymore." pic.twitter.com/ebWNcqxos8

— Hunter Schwarz (@hunterschwarz) July 11, 2017
A lot of people were especially surprised to see Matt Drudge's reaction to the story:
When you've lost Drudge… https://t.co/mU54ttql4X pic.twitter.com/cdbKmFsfsp

— Matt Fuller (@MEPFuller) July 11, 2017
Et tu, Drudgay? pic.twitter.com/G4aoy8zTwh

— Keith Olbermann (@KeithOlbermann) July 11, 2017
whoa Drudge pic.twitter.com/kCSFfrR6Ri

— Hadas Gold (@Hadas_Gold) July 11, 2017
[Image via screengrab]
— —
>> Follow Ken Meyer (@KenMeyer91) on Twitter
Have a tip we should know? tips@mediaite.com