BuzzFeed Counting the Days of NRA Twitter Silence After Navy Yard Mass Shooting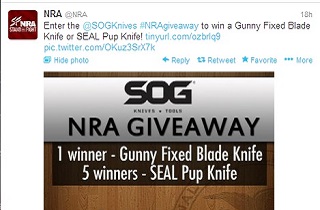 The mass shooting at the Washington Navy Yard is still unfolding, with twelve people confirmed dead at this point (including one gunman), and two suspects possibly still at large. The website Buzzfeed, however, is already tracking the National Rifle Association's (NRA) Twitter response to the mass shooting, which, according to Buzzfeed's Andrew Kaczynski, typically involves long periods of silence.
The mass shooting at Sandy Hook Elementary School in Newtown, Connecticut may not have resulted in federal gun policy as yet, but it did change a great many things, including the interval, after a mass shooting, at which it is acceptable to begin discussing gun policy. That horrific event, in fact, prompted Buzzfeed's Kaczynski to begin tracking the NRA's Twitter activity following mass shootings:
How The NRA Twitter Handles A Mass Shooting: Silence

The model is to go silent for at least a day, depending on the scope of the tragedy.

July 20, 2012, Aurora, Colorado, Theater Shooting: 10 Days Without Tweeting

Aug. 5, 2012, Sikh Temple Shooting: One Day Without Tweeting

Dec. 11, 2012, Clackamas Town Center Shooting: One Day Without Tweeting

Dec. 14, 2012, Sandy Hook Elementary School Shooting: Four Days Without Tweeting
This afternoon, Kaczynski updated that tick-tock with this notation:
Sept. 16, 2013, Washington D.C. Navy Yard Shooting: One Day (And Counting) Without Tweeting
Kaczynski may actually be giving the NRA credit for more caution than it is due. The one-day interval that he cites for two mass shootings is actually no different from intervals on days when there are no mass shooting, The NRA's Twitter feed is not all that prolific, and will routinely go a day or more without tweeting.
Here's the NRA's last tweet before the Navy Yard shooting, promoting an NRA knife giveaway: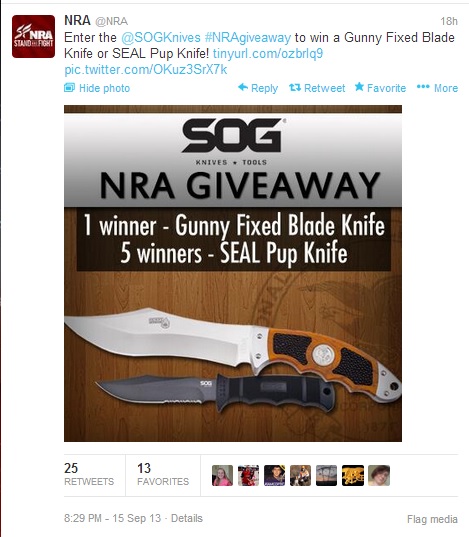 Have a tip we should know? tips@mediaite.com