Campaign Secrets: Mitt Romney Peels The Cheese Off His Pizza, Rick Perry Prefers Jen Aniston To Angelina Jolie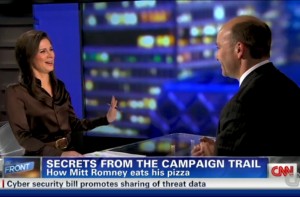 It's not going to be filed under "breaking news," but Politico's Mike Allen was a guest on Erin Burnett's program Wednesday night, and revealed some pretty interesting behind-the-scenes details from the campaign trail, many of which are included his new e-book (written with Evan Thomas), Playbook 2012: The Right Fights Back.
At the top of the list? Mitt Romney's strange food habits. Allen says that Romney pulls the cheese off the top of his pizza slices and tears the skin off KFC fried chicken, eating just the meat. "I'm glad to hear he's got vices," Burnett joked.
Allen also revealed that Romney is so intense about workouts that if he can't get into a gym at his hotel, he'll just run around the halls. So remember that next time you're at a Marriott (which he prefers) — the thumping in the hallways might not be rambunctious 13 year-olds; open the door, and you could meet a Republican front-runner! (or you could scare some little kids)
There was also an endearing, much more-normal-ish quality about Romney that Burnett pressed Allen on. A relative of the multi-millionaire told him that Romney likes to fix holes in gloves with duct tape instead of throwing them away. "I throw away my gloves," Allen admitted.
The other juicy bits of information Allen gave to Burnett concerned Rick Perry. He said Perry — and this is probably not surprising to many people — didn't do much debate prep while traveling. Instead, he'd crack jokes ("sometimes involving animals") or play with his iPad and look at pictures of his family. Allen also said that Perry preferred Jennifer Aniston to Angelina Jolie. At least, we're 99% sure that he only answered a question about the actresses. Burnett prompted Allen by asking, "He did do Angelina or Jennifer Aniston. I'm curious which he picked."
Watch the clip of Burnett's interview with Allen below, courtesy of CNN:

Have a tip we should know? tips@mediaite.com