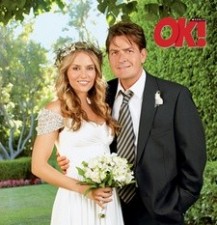 Hollywood bad boy Charlie Sheen is as well known for his antics off the screen as his work in classics across the genre spectrum, including Platoon and Major League. His rough and tumble image followed him well into adulthood and was only enhanced by a tumultuous, tabloid-favorite romance, marriage and messy divorce with actress Denise Richards. But who's Brooke Mueller? After tonight, we'll all know.
Sheen married Mueller, a real estate developer, in May of 2008, seeming to truly find his better half and all but falling off of the gossip radar. It was his third marriage and her first. About one year later, in May of 2009, the couple gave birth to twins, Max and Bob, giving Mueller her first full taste of tabloid culture, even after her wedding photos were billed as exclusives in OK! Magazine, when the boys' premature births and one's hospital stay ended up all over the web and weeklies.
In June, the couple put their LA villa up for sale, but that move was hardly covered, even in the celebrity press.
In September, the Daily News' gossip folks Gatecrasher reported a little trouble in paradise between Sheen and Mueller, when she became angry at the quality of his gifts for her as compared to Denise Richards. Her reps, obviously, denied the claims:
Mrs. Sheen 2.0 threw a fit at Kari Feinstein's Emmy Awards gifting suite over the weekend when she was denied her request of a diamond-and-gold Hershey's Kiss necklace – and offered silver instead. "I know [Charlie's first wife] Denise Richards was here earlier, and she has a diamond necklace," the furious Mueller sniffed. After being told that reality star Richards did, indeed, have the bling in her possession, Mueller sniped: "She's going down!"
All in all, their press history was pretty solid for a half-celebrity couple. Before Christmas 2009, that is.
Now, Sheen has been jailed for domestic violence — on a holiday, no less — and all indications that he was headed for obscurity and domesticity have been squashed. He's TMZ-bait once again. And maybe Tiger Woods can finally breathe a sigh of relief. Merry Christmas?
Have a tip we should know? [email protected]