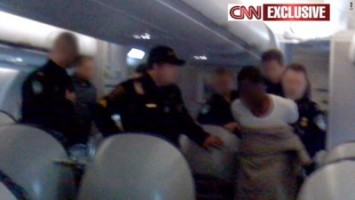 After yesterday's failed bombing of a Northwest airlines flight, new details are beginning to emerge, both about the suspect — confirmed as 23-year-old Nigerian national Umar Farouk Abdulmutallab — and what exactly occurred in the cabin of flight 253.
CNN is reporting that the man is "talking a lot" to the FBI, according to a senior U.S. official, and it appears that he was "acting alone and did not have any formal connections to organized terrorist groups," though preliminary reports indicated that Abdulmutallab said he was on a mission from al Qaeda. "The administration official said there was no evidence that Abdulmutallab was a hard-core, trained member of al-Qaeda," reported CNN.
Additionally, passengers are beginning to tell their story. Expect a lot of appearances on cable news networks in the coming days by those who were on the flight. WXYZ, a local ABC affiliate in Detroit, has video interviews with passengers, like the one below in which a woman describes hearing "a loud pop."
CNN, meanwhile, is reporting the following story:
Schuringa said he heard a big bang that sounded like a firecracker going off. He told CNN that he was the one who was able to subdue Abdulmutallab. CNN was not able to independently confirm Schuringa's account.

Schuringa said someone started yelling: "Fire! Fire!"

Then there was smoke. That's when Schuringa said he knew something was terribly wrong.

When he noticed that Abdulmutallab was not moving, he grew suspect. He jumped over the passenger next to him and lunged over Abdulmutallab's seat.

Schuringa said he saw that Abdulmutallab had his pants open and he was holding a burning object between his legs.

"I pulled the object from him and tried to extinguish the fire with my hands and threw it away," Schuringa said.

He said he managed to pull an object tucked between Abdulmutallab's legs.

"Water! Water," Schuringa screamed. He heard fire extinguishers as he pulled Abdulmutallab out of his seat and dragged him to the front of the plane.

Schuringa said Abdulmutallab seemed dazed. "He was staring into nothing."

Schuringa said he stripped off Abdulmutallab's clothes to make sure he did not have other explosives on his body. A crew member helped handcuff him.

He said other passengers applauded as he walked back to his own seat.

"My hands are pretty burned. I am fine," he said. "I am shaken up. I am happy to be here."
More accounts from passengers and additional details, reported by CNN, can be read here.
Device was on fire in terror suspect's lap, plane passenger says [CNN]
Watch CNN's report on the latest details from last night below:
Have a tip we should know? tips@mediaite.com