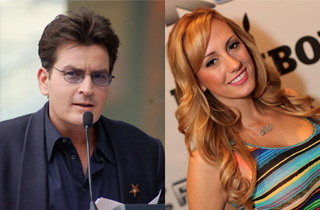 Scottine Ross, an ex-girlfriend of Charlie Sheen, filed a civil lawsuit Thursday seeking unspecified damages for alleged battery, assault, and negligence, The Wrap reports. Ross claims Sheen failed to disclose his HIV-positive status despite engaging in an intimate relationship with the former porn star. The pair were engaged from February – October 2014.
"Mr. Sheen was verbally and physically abusive to her due to his substance abuse relapses, and most egregiously, withheld the fact he was HIV positive when he first engaged in sexual relations with her in November 2013," the lawsuit alleges.
According to the suit, Ross began a relationship with Sheen after agreeing to sleep with the "Two and a Half Men" star for $10,000. Ross said she found HIV medication in Sheen's home after the pair slept together on "at least five occasions,"  claiming she would not have been intimate with Sheen had she known about his status.
The suit also alleges that Ross became pregnant with Sheen's child, but the actor pressured her to abort for fear she would "give birth to a retarded child" as a result of Sheen's HIV status.
Charlie Sheen's attorney Martin Singer said Sheen "intends to vigorously defend the lawsuit filed by Scottine Ross."
"We are confident that Mr. Sheen will prevail in this action and will prevail on his claims for affirmative relief against her," he added.
Last month, Sheen revealed his HIV status on NBC's Today, telling host Matt Lauer he hid positive HIV result from the public for years. Sheen said he was pushed to disclose his status after receiving blackmail threats from people acting in "treason" against him.
[Images via Wikimedia Commons]
—
>> Follow Elizabeth Preza on Twitter (@lizacisms)
Have a tip we should know? tips@mediaite.com