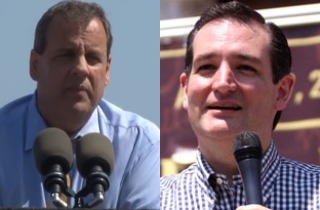 New Jersey governor Chris Christie blasted Sen. Ted Cruz on Friday for his "hypocrisy" in requesting federal aid for Texas after previously voting against relief for Hurricane Sandy. "It's great, right," Christie sarcastically asked at an Iowa town hall meeting. "Now he says he's got floods in Texas. He says, 'Hey, we need some help down here in Texas.'"
Cruz and other conservative lawmakers opposed the Sandy relief package in 2013 on the grounds that the bill contained money that he feared would go to pork projects, rather than important restorations. Christie reiterated a speech he made two weeks ago, saying that it was irresponsible for officials to play "tit for tat" with federal aid whenever constituents face natural disasters.
"This could happen in your state, in your neighborhood, and you would want the American people to come and help you as well," said Christie, though he refrained from referencing Cruz until today:
"All of a sudden, the principled vote that I'm making here on the floor of the United States Senate is I'm not going to spend this kind of money on this kind of thing unless it happens in my state, and if it does, it's an absolutely appropriate expenditure of money."
The governor continued to invoke other congressional Republicans who resisted the bill, saying that "people wanted me to take shots at the Colorado people, at Senator Cruz, and I said 'I'm not going to.'" Christie finally said that Texas should get the federal funds because, "what's more important is not [Cruz's] hypocrisy; it's the people of his state who are suffering and there are communities that need to be rebuilt."
"I know the people of Belmar, the people of New Jersey would say to Congress, 'Don't play with them the way you played with us,'" Christie concluded.
You can watch Christie's Iowa statement here, via NJ.com
[h/t CNN]
[Image via Screengrab / Facebook]
— —
>> Follow Ken Meyer (@KenMeyer91) on Twitter
Have a tip we should know? tips@mediaite.com