Christie Talks Bridgegate, 'Angry' Persona, and Springsteen-Fallon Skit in New Interview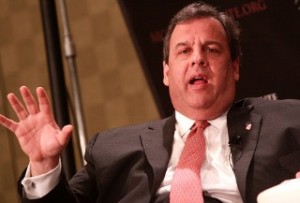 New Jersey Governor Chris Christie is speaking out in a new interview with Yahoo! News about the continuing fallout of the BridgeGate scandal, in which he addressed his "angry" persona and the Jimmy Fallon/Bruce Springsteen skit about his troubles.
Two weeks ago, Christie held an almost two-hour-long press conference about the scandal, followed up by brief remarks in his State of the State address last week, and tomorrow he gets the media spotlight again with the official inaugural for his second term in office. Christie told Yahoo's Matt Bai last Friday that the entire ordeal has been "completely disorienting, like I got hit across the forehead with a two-by-four."
He plays up his ability to make deals with Democrats by his willingness to "have sharp elbows publicly," but shoots down the idea that he's a bully or just always angry.
"It doesn't mean I don't get angry – everybody gets angry," he said. "But they confuse sometimes, if you're blunt and you're direct and you just say things the way you see them, that that's anger. More times than not, it's not anger with me. It's just my personality.
As for any potential 2016 ambitions he has, Christie said he feels "readier" now to run for the presidency than he did three years ago, if he feels up to running after all this has passed.
And then, of course, there's the Boss. Christie is a huge Springsteen fan, and while Fallon told the governor about the "Born to Run" parody ahead of time, Christie could not bring himself to watch it. However, Christie wasn't really bothered by it or got angry over it at all.
So I guess you could say it's all water under the bridge.
[photo via Gage Skidmore]
— —
Follow Josh Feldman on Twitter: @feldmaniac
Have a tip we should know? tips@mediaite.com
Josh Feldman - Senior Editor