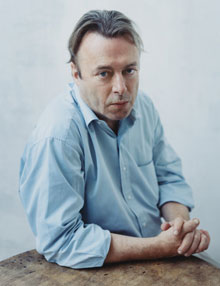 Surprise! Christopher Hitchens is annoyed by something. In the January issue of Vanity Fair, Hitchens penned a caustic essay titled "Tea'd Off," in which he offers some of his many thoughts on Ross Douthat, the Tea Party, and Glenn Beck. It's Beck, he says, who deserves the blame for "canalizing old racist and clerical toxic-waste material" in America.
He faulted Douthat, a conservative columnist for the New York Times, for lending credibility to the Tea Party movement and distancing it from the John Birch Society. It's quite the opposite, writes Hitchens—if not worse. He criticizes Beck for "inciting [his followers] to read the work of W. Cleon Skousen, a man more insane and nasty than [Birch Society founder Robert] Welch and a figure so extreme that ultimately even the Birch-supporting leadership of the Mormon Church had to distance itself from him."
He goes on to say,
So, Beck's "9/12 Project" is canalizing old racist and clerical toxic-waste material that a healthy society had mostly flushed out of its system more than a generation ago, and injecting it right back in again. Things that had hidden under stones are being dug up and re-released. And why? So as to teach us anew about the dangers of "spending and deficits"? It's enough to make a cat laugh. No, a whole new audience has been created, including many impressionable young people, for ideas that are viciously anti-democratic and ahistorical. The full effect of this will be felt farther down the road, where we will need it even less.
But if your cat still isn't laughing, there's plenty more where that came from. You can read about all the things that make Christopher Hitchens "curl [his] lip" over at Vanity Fair.
Have a tip we should know? tips@mediaite.com