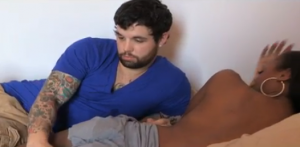 Many, including my mother, have tried to explain to me how Playboy is insulting to women. I've never really understood it. Then, a month ago, Playboy TV announced it was developing a new series that was specifically designed to increase their female demographic. Today, the first ad for one such show, Brooklyn Kinda Love, appeared and we can now see what Playboy TV thinks women like: inane, reality television. Oh, now I get it. That is insulting.
Yeah, for everyone who watches reality shows like Jersey Shore and thinks to themselves, "Man, this is a totally good way for me to spend my time on Earth but I sure wish I could see the genitals of these walking disasters," Playboy TV has the show for you. It's a series that follows four typical Brooklyn couples. You know the type: young, tattooed, and willing to have sex on camera for the financial gain of a giant corporation. Basically, you could have scooped any of them off the L Train and they'd be like that. However, most importantly, in between all that uncensored sex, they'll be talking about relationships and feelings and stuff for all the ladies in the audience.
There is a slight chance this could be watchable. I mean, it's from the producers of Taxi Cab Confessions which always has a train wreck-esque "Something good to watch when you get home late and don't feel like going to bed" quality. But, this doesn't really look anything like that, though I'm not really the audience for this since I'm not a woman. Of course, I like to believe most women prefer something a little higher brow. Then again, what do I know? I read Playboy.
DISCLAIMER: The author of the above post hates all reality television and basically loses a lot of respect for anyone who watches any of it. Yes, that even counts that one show you like that's totally different because of that one tiny rationalization you made up. The author makes no apologies for this bias but thought you, the reader, should know.
Watch the clip from Playboy TV below:
(h/t The Hollywood Reporter)
Have a tip we should know? tips@mediaite.com