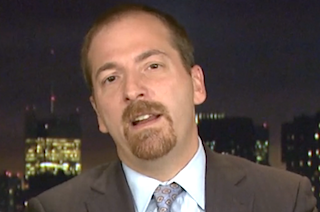 Is Congress slowly getting dumber? That is the idea Meet the Press host Chuck Todd put forward during an interview on Ora.tv's PoliticKING with Larry King this week.
Todd, who has been making the rounds to promote his new book, The Stranger: Barack Obama in the White House
, told King how he believes the Supreme Court's loosening of campaign finance restrictions has diminished the caliber of candidate who is willing to run for office.
"I think it's all having a cumulative impact, and here's the unintended consequence: so, you have all this money," Todd said. "If you're a candidate, Larry, and you want to run for office, you've got to suddenly not just see if you've got enough friends to write you checks that'll add up to a couple of million dollars. You have to find out if you have a sugar daddy or sugar mommy that can write you a check for a billion dollars or knows people that can accumulate a billion dollars."
"Oh by the way, what you want to run on, you might not be able to run on because some outside group may decide they're going to make your campaign about issue X even if you want to talk about issue Y," he continued. "I think this whole process— it's the money. It's media, social media, opposition research, the destructive nature of American discourse — is you have an accumulating effect that drives good people from running for office and I think we're having a collective — you know, I sort of joke that I think the collective IQ of Congress goes down every two years because smart people look at it and say, 'Why do I want to do this?'"
It's a sentiment echoed by potential 2016 contenders like Wisconsin Governor Scott Walker, who said recently, "you have to be crazy to want to be president."
Watch video below, via Ora.tv:
[Photo via screengrab]
— —
>> Follow Matt Wilstein (@TheMattWilstein) on Twitter
Have a tip we should know? tips@mediaite.com