Cleveland Editorial Board Blasts Police in Tamir Rice Shooting: 'They Have a Lot of Explaining to Do'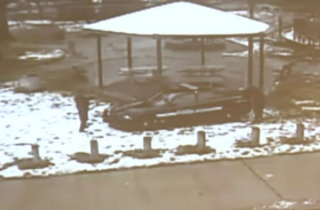 Despite publishing a controversial article painting 12-year-old Tamir Rice as the product of a broken, violent home, the Cleveland Plain Dealer today also published an editorial accusing police of lying about the circumstances surrounding his death.
Initially, the Cleveland police reported that Rice, playing with a group of friends, had brandished a toy gun at two policemen, forcing them to shoot him twice, killing him. But surveillance footage of Rice's death released on Wednesday told a radically different story, prompting the Plain Dealer to call out multiple contradictions:
The police said two officers, responding to a 9-1-1 call, went to the park and saw Tamir take what they thought was a pistol from a table under a gazebo in the park and stuff it in his waistband. Police said that the boy was sitting with a group at the time.

Police also said that the officers told Tamir three times to raise his hands, and that when he reached for what they thought was a real pistol, he was shot.

The video, however, shows officers in a cruiser pull up within several feet of Rice, who was not with a group, but by himself underneath a gazebo. Immediately, even before the car stops rolling, the cruiser's passenger side door opens, an officer emerges and fires at Tamir, who drops to the ground.
"The police have a lot of explaining to do," they concluded.
The internet immediately leapt on the Plain Dealer's stance, pointing out that the editorial was a complete 180 from their earlier coverage of Rice's death, in which they controversially wrote that Rice's parents have "violent pasts" and that his biological father, Leonard Warner, had a history of abusing women. That article, which the paper defended in an op-ed, was published hours before the surveillance footage of Rice's death was released.
[The Plain Dealer]
[Image via screenshot]
—
>> Follow Tina Nguyen (@Tina_Nguyen) on Twitter
Have a tip we should know? tips@mediaite.com