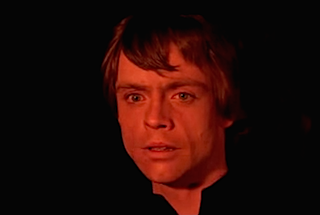 With J.J. Abrams' Star Wars: Episode VII – The Force Awakens teaser trailer set to appear in select theaters Friday, new sites all over the web — including this one — were on the lookout for an official version to appear online this morning. Unfortunately for Rolling Stone, the magazine seems to have mistaken one of the many fan-made fake trailers for the film for the real one.
In a post written today, an uncredited writer describes a trailer that bares no resemblance to the space, 90-second clip released to the public. Instead, the article appears to recount an impressive fake posted to YouTube by someone named Romeo Lux last week. Instead of featuring the new footage, the video, titled "Star Wars: The Force Awakens International Teaser Trailer" includes almost all clips from the previous Star Wars films, including a young Mark Hamill as Luke Skywalker and shots of C-3PO, R2-D2 and other classic characters. The video has amassed more than 4.5 million views. since it was posted on Monday
Here is what the post looked like Friday morning: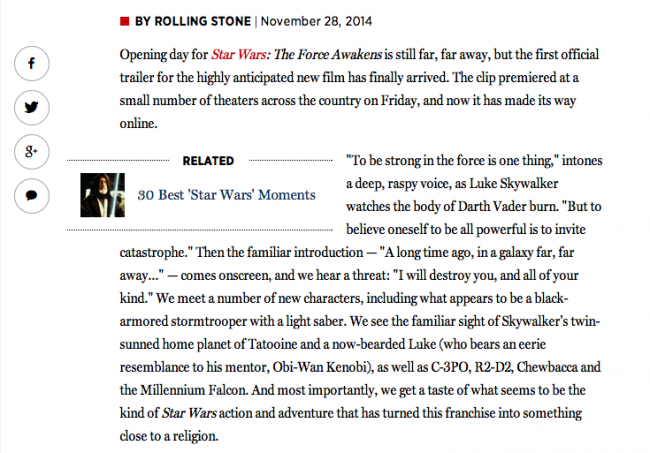 At around 12 noon, after several commenters pointed out the mistake, the video and description of the trailer were updated. But no correction was added.
Of course, anyone who has sen the actual teaser knows that none of this is accurate.
So, for the record, this is a fake Star Wars: Episode VII trailer:
You can watch the real teaser trailer below:
[h/t Anthony De Rosa]
[Photo via screengrab]
— —
>> Follow Matt Wilstein (@TheMattWilstein) on Twitter
Have a tip we should know? tips@mediaite.com