Clint Eastwood: Obama Is 'Greatest Hoax Ever Perpetrated On The American People'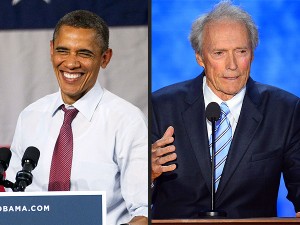 In an interview with a local California newspaper, Clint Eastwood said his Republican National Convention speech achieved exactly what he wanted it to. He then proceeded to label President Barack Obama a "hoax."
"President Obama is the greatest hoax ever perpetrated on the American people," Eastwood told The Pine Cone. "Romney and Ryan would do a much better job running the country, and that's what everybody needs to know. I may have irritated a lot of the lefties, but I was aiming for people in the middle."
As for the speech, Eastwood said its improvisational nature was intentional, and that he hit the points he'd set out to make. Per the article:
"I had three points I wanted to make," Eastwood said. "That not everybody in Hollywood is on the left, that Obama has broken a lot of the promises he made when he took office, and that the people should feel free to get rid of any politician who's not doing a good job. But I didn't make up my mind exactly what I was going to say until I said it."

Eastwood's appearance at the convention came after a personal request from Romney in August, soon after Eastwood endorsed the former Massachusetts governor at a fundraiser in Sun Valley, Idaho. But it was finalized only in the last week before the convention, along with an agreement to build suspense by keeping it secret until the last moment.

Meanwhile, Romney's campaign aides asked for details about what Eastwood would say to the convention.

"They vett most of the people, but I told them, 'You can't do that with me, because I don't know what I'm going to say,'" Eastwood recalled.
Eastwood noted he doesn't like teleprompters and doesn't quite know how to give speeches. The invisible chair idea came to him when he was backstage:
"There was a stool there, and some fella kept asking me if I wanted to sit down," Eastwood said. "When I saw the stool sitting there, it gave me the idea. I'll just put the stool out there and I'll talk to Mr. Obama and ask him why he didn't keep all of the promises he made to everybody."

He asked a stagehand to take it out to the lectern while he was being announced.

"The guy said, 'You mean you want it at the podium?' and I said, 'No, just put it right there next to it.'"
And thus a speech was born.
Have a tip we should know? tips@mediaite.com