CNN Contributor Paul Begala Made Nearly $600,000 Consulting For Pro-Obama Super PAC In 2012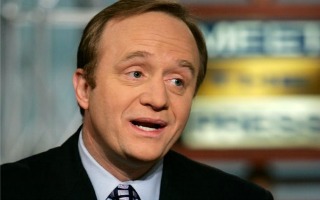 According to a report by the Center for Responsive Politics, CNN contributor and columnist for NewsweekThe Daily Beast, Paul Begala was one of the highest paid outside consultants working with the pro-Obama political action committees Priorities USA and Priorities USA Action in 2012. Financial disclosures obtained by Open Secrets reveal that Begala made nearly $600,000 in compensation for his services to Barack Obama's reelection effort over the course of the 2012 election cycle.

RELATED: CNN Fact Checks Priorities USA Ad Blaming Mitt Romney For Woman's Death
"I advise the biggest pro-Obama super PAC, and yet I would like to live in a world without super PACs. I'd be happy to work myself out of a job because I think unlimited money is not good for the system," Begala told the Brown Political Review in November of last year.
Begala called the 2010 Supreme Court decision Citizens United, which allowed for the creation of Super PACs, a decision which would result in "auctioned off democracy."
Apparently, Begala decided to put in a bid at the democracy auction, because his consulting work for the 501(c)(4) Priorities USA, and its sister organization Priorities USA Action, netted Begala more than half a million dollars in remuneration.
Begala received well over $400,000 from Priorities USA Action, the super PAC, in return for his consulting services between April 2011 and November 2012.

But the recently filed Form 990 of Priorities USA, the nonprofit, shows that it, too, has been paying Begala handsomely. In the first eight months of the 501(c)(4)'s existence, Begala received more than $184,000 for "communications consulting," making him Priorities' top independent contractor.
While Begala's dual role as both a campaign consultant and a commentator on cable news is also shared by Republicans like Dick Morris and Karl Rove, Open Secrets notes that Begala himself did not always disclose his relationship with the pro-Obama group.
For example, one of the only three videos Priorities USA ever posted on its YouTube page was a clip of Paul Begala on CNN lauding President Obama for standing up for the middle class. Begala's credentials are displayed on the left, but there is no mention of his links to the pro-Obama group.
Read the full report via Open Secrets.Org
> >Follow Noah Rothman (@Noah_C_Rothman) on Twitter
Have a tip we should know? tips@mediaite.com