CNN Investigates Ben Carson's Stories of Childhood Violence, Finds No Evidence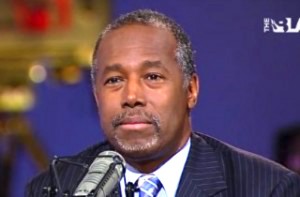 CNN investigated Republican presidential candidate Ben Carson's claims that he violently attacked his classmates, and could find no corroborating evidence that the incidents occurred.
In his book Gifted Hands and in later interviews, Carson recounts how he used to have a violent temper as a child. In separate incidents, he describes trying to attack his mother with a hammer, trying to stab a friend in school, and bashing a classmate over the head with a heavy lock. It was only after giving up his anger and turning to God, Carson writes, that he turned his life around.
But when CNN investigated these claims, Carson's classmates seemed skeptical. "I don't know nothing about that," said one classmate of the stabbing incident. "It would have been all over the whole school."
"I personally do not have knowledge of those incidents," said another former classmate said. "I wondered, 'When did that happen?'"
Indeed, everyone who knew Carson in childhood described him as exactly the mild-mannered man he grew up to become, not a hothead. "He got through his day trying not to be noticed," one friend said. "I remember him having a pocket saver. He had thick glasses. He was skinny and unremarkable."
One classmate said that during a class reunion, he had huddled together with alumni, and no one could recall Carson's supposed attacks. "Take my word for it: Everyone at Southwestern would know about it if something like that happened," he said.
The best CNN could find was one classmate who initially said he had heard nothing, but later said that he remembered hearing something about someone getting, but said he never knew "if it was just a rumor or what."
The Carson campaign did not respond to CNN when they asked for more information to track down Carson's victims or any witnesses. "Why would anyone cooperate with your obvious witch hunt?" campaign aide Armstrong Williams asked.
[Image via screengrab]
——
>>Follow Alex Griswold (@HashtagGriswold) on Twitter
Have a tip we should know? tips@mediaite.com