CNN Tech Analyst Thinks 4Chan Is A Person: 'He May Have Been A Systems Administrator'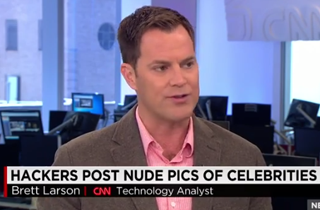 Anyone who's ever used the internet knows what 4Chan is — namely, a message board/community where the dregs of the internet birth memes, plot stunts, and share hundreds of celebrity naked photos obtained by hacking into their private iCloud accounts and scraping the previously-deleted photos from backup storage.
We can forgive people over the age of 35 for not knowing what 4Chan is — but we cannot forgive Brett Larson, CNN's technology analyst, for thinking that 4Chan is the hacker name of an actual human being.
"I'm sure we're going to get some more confirmation as the hours and minutes go on, but he may have been a system administrator who knew his way around and how to hack things," Larson postulated yesterday on Brooke Baldwin's show. "This seems like it was not a real, big effort, but more of a 'I have these usernames, I know this security loophole — I'm just gonna run this password app and see if I can get into these people's cloud-based accounts.'"
Most reports indicate that the perpetrators (as in multiple) were actually part of a 4Chan offshoot-turned-hacking ring that frequently broke into celebrity iCloud accounts using brute force methods, and traded their photos with their fellow hackers.
According to his website, Brett Larson has "brought the world of tech into the homes of millions of American's while working at TechTV in San Francisco," and "has an understanding of the digital divide between traditional and online media and social networking."
Watch via CNN:

[image via screengrab]
—
>> Follow Tina Nguyen (@Tina_Nguyen) on Twitter
Have a tip we should know? tips@mediaite.com