#CNNBlackmail Trending After CNN Reports On Reddit User Behind Trump's Wrestling Tweet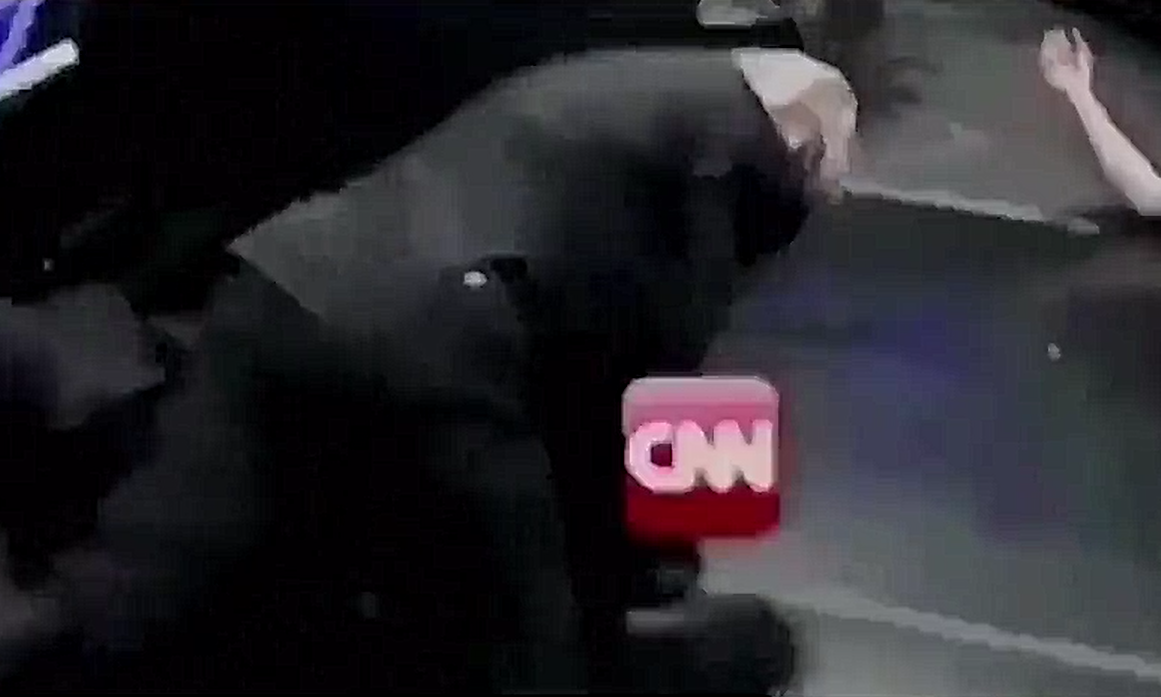 Late on Tuesday, #CNNBlackmail became the biggest trending hashtag on Twitter after the anonymous Redditor who created the gif of President Trump wrestling the CNN logo issued an apology.
During the holiday, CNN's Andrew Kaczynski, published an article called "How CNN Found the Reddit User Behind the Trump Wrestling GIF." In it, he notes that Reddit user HanAssholeSolo issued an apology "one day after CNN identified the man behind the account and attempted to make contact with him."
Kacyzenski, a reporter of CNN's KFile division, went into detail as to how they tracked him down.
"Using identifying information that "HanA**holeSolo" posted on Reddit, KFile was able to determine key biographical details, to find the man's name using a Facebook search and ultimately corroborate details he had made available on Reddit," he writes.
These two paragraphs, however, caught the attention of many:
CNN is not publishing "HanA**holeSolo's" name because he is a private citizen who has issued an extensive statement of apology, showed his remorse by saying he has taken down all his offending posts, and because he said he is not going to repeat this ugly behavior on social media again. In addition, he said his statement could serve as an example to others not to do the same.
CNN reserves the right to publish his identity should any of that change.
That last line was seen by CNN's detractors as something akin to "blackmail,"  and the Twitter reaction was strong.
#CNNBlackmail is actually pretty accurate here. https://t.co/gJU7qBdUGO

— Ben Shapiro (@benshapiro) July 5, 2017
The entire story is bad. The topic is bad. Its placement is bad. The blackmail is bad.

— Mollie (@MZHemingway) July 5, 2017
CNN has just committed suicide from #CNNBlackmail pic.twitter.com/Gg1cvuxMaO

— Mark Dice (@MarkDice) July 5, 2017
I guess, CNN, the public relations arm of the Democratic Party is now a mafia. Add that to their list. CNNIsMafia #CNNBlackmail

— Kambree Kawahine Koa (@KamVTV) July 5, 2017
It's almost like CNN wants Trump to get reelected.

Everyone is calling CNN fake news and now the Criminal News Network.#CNNBlackMail

— #ThePersistence (@ScottPresler) July 5, 2017
If you think the Reddit guy's name is newsworthy, publish it. If it's not, don't.

Holding future behavior over his head is #CNNBlackmail. pic.twitter.com/jH3EIQ2AyO

— Josh Jordan (@NumbersMuncher) July 5, 2017
You never take on the internet, specially Reddit. CNN apparently thought this was a good decision. Ha good luck #CNNBlackmail

— Nick Short ?? (@PoliticalShort) July 5, 2017
Um @CNN broke twitter's terms of service by doxing and blackmailing the guy that made the WWF GIF. #CNNBlackmail

— KEEM ? (@KEEMSTAR) July 5, 2017
Leave it to CNN to unite people at each other's throats! #CNNBlackmail

— Mike Cernovich ?? (@Cernovich) July 5, 2017
Don't worry @KFILE, if you start deleting your tweets I've saved them for you. #urwelcome #CNNBlackmail

— Tammy Bruce (@HeyTammyBruce) July 5, 2017
A multi-billion dollar TV network blackmailing a private citizen into not making funny videos about it is not journalism, CNN. #CNNBlackmail

— Julian Assange (@JulianAssange) July 5, 2017
Kaczynski attempted to clarify what many interpreted as blackmail.
CNN specifically choose not to reveal this guy's identity and to say we threatened anyone is a total lie.https://t.co/f02hLaVRqu

— andrew kaczynski ? (@KFILE) July 5, 2017
This line is being misinterpreted. It was intended only to mean we made no agreement w/the man about his identity. https://t.co/9FL6EvTikx

— andrew kaczynski ? (@KFILE) July 5, 2017
#CNNBlackmail outpaced #July4th2017 as the most trending hashtag in the final hours of the holiday.
Have a tip we should know? tips@mediaite.com