College Professor Loses Job Over Combative Appearance on Tucker Carlson's Show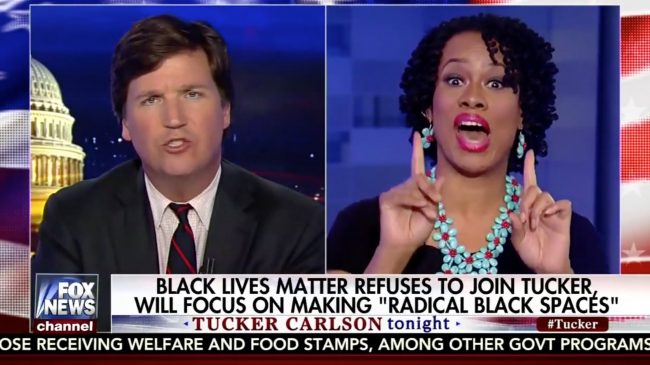 Earlier this month, Essex County College adjunct professor Lisa Durden appeared on Fox News' Tucker Carlson Tonight and things got pretty heated. Discussing a Black Lives Matter Memorial Day event that was only open to black people, Durden dismissed host Tucker Carlson's concerns, mocking saying "boo hoo hoo" while adding that "white people are angry because you couldn't use your white privilege card."
In the wake of the combative segment, which included Carlson calling the professor "demented," Durden found herself suspended by the college. As of this past Friday, Durden no longer works at the school.
In a statement, Essex County College President Anthony E. Munroe explained that after a "fair and thorough review," the college had decided they could no longer "maintain an employment relationship with the adjunct." He also had this to say about Durden's remarks: "Racism cannot be fought with more racism."
Following her firing on Friday, Durden told NJ.com that she's received quite a bit of support from students and faculty and that she believed the school would have her back after her Fox News appearance.
"It should be a safe place for me," she said of Essex County College. "I thought when I came home from war, I would be safe." Instead, she said, "I was fired."
She also said she's considering legal action against the college for terminating her.
[image via screengrab]
–
Follow Justin Baragona on Twitter: @justinbaragona
Have a tip we should know? tips@mediaite.com