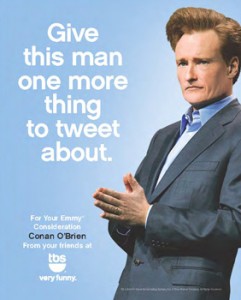 The TBS-supported Emmy campaign by Conan O'Brien regarding his former show, NBC's The Tonight Show, worked brilliantly: O'Brien's version of the show got four nominations this morning.
NBC entered The Tonight Show with Jay Leno – which got zero nominations. This could get awkward when the Emmys air August 29 on, um, NBC.
The four nominations for Conan and crew included the two big ones, Outstanding Variety, Music Or Comedy Series and Outstanding Writing For A Variety, Music Or Comedy Series. The same five programs were nominated in each category – joining Conan's Tonight Show are The Colbert Report, The Daily Show, Saturday Night Live and Real Time with Bill Maher. The writing nomination is for Conan's final show (SNL's is for Betty White's turn as host.)
Then there were two more categories. The Tonight Show got an Outstanding Art Direction For Variety, Music Or Nonfiction Programming for the premiere, and fittingly, an Outstanding Directing For A Variety, Music Or Comedy Series nod for the final Tonight Show with O'Brien as host. Those two awards will be determined before the live broadcast on August 29.
Speaking of that live broadcast, just to make things even more awkward (and amazing), it isn't just airing on NBC. It is hosted by Jimmy Fallon – the show that followed by Conan and Leno's version of The Tonight Show.
We'll have more in the coming weeks (just wait for Conan's reaction tweet). For now, here's all the nominees (a lot of Glee, a lot of The Pacific).
> Update: And here's Conan's tweet: "Congrats to my staff on 4 Emmy nominations. This bodes well for the future of The Tonight Show with Conan O'Brien."
—–
» Follow Steve Krakauer on Twitter
Have a tip we should know? [email protected]