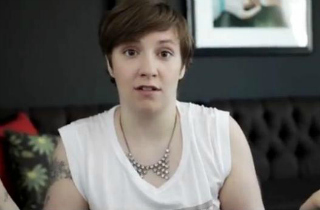 I have a daughter who just turned one a few weeks ago. Cameron Naomi is a beautiful baby girl and has enriched the life of my wife and me more than we could have ever expected. And I'm not being biased as her dad — she really is stunning — particularly because she looks mostly like her mom, especially in the eyes.
Having said that and, as you may have heard, Lena Dunham is once again at the center of controversy — this time for a particular part of her new book that discusses masturbating while her sharing a bed with her six-years-younger sister and bribing said sister with candy so she could kiss her on the lips for five seconds. Of course, Dunham portrays this as the kind of weird stuff that all kids/teenagers do in their experimental years.
If you have brothers and sisters (like me), ask yourself this: Did you ever remotely consider doing these type of things with your siblings? Neither did I.
Here are two passages word-for-word:
As she grew, I took to bribing her for her time and affection: one dollar in quarters if I could do her makeup like a "motorcycle chick." Three pieces of candy if I could kiss her on the lips for five seconds. Whatever she wanted to watch on TV if she would just "relax on me." Basically, anything a sexual predator might do to woo a small suburban girl I was trying.
And…
I shared a bed with my sister, Grace, until I was seventeen years old. She was afraid to sleep alone and would begin asking me around 5:00 P.M. every day whether she could sleep with me. I put on a big show of saying no, taking pleasure in watching her beg and sulk, but eventually I always relented. Her sticky, muscly little body thrashed beside me every night as I read Anne Sexton, watched reruns of SNL, sometimes even as I slipped my hand into my underwear to figure some stuff out.
As you may also know, I've never been a fan of Dunham's HBO show (Girls), which — despite a juicy night and timeslot (Sundays at 10:00 PM) is perpetually and easily among the network's lowest rated original programs because: (a) It simply isn't any good; and (b) Only generates media attention because of all the attention its 28-year-old lead shines on her clothing-challenged self each week. And as a new-ish parent with a personal perspective on the vulnerability and innocence of little children, what she wrote in that book deserves all the scorn and repudiation it's receiving right now. By the way, how would you like to be that younger sister — Grace Dunham — right about now?
RELATED: Lena Dunham's Sister Addresses Allegations of 'Sexual Abuse' from National Review
A few conservative websites — including the National Review and Truth Revolt — have written up the aforementioned passages in Dunham's book, and let's just say these weren't glowing reviews. Upon catching wind of the criticism, the actress/author decided to go into a self-described "rage spiral" on Twitter, slamming the sites in a series of 140 characters-or-less messages. But it doesn't stop with just being thin-skinned: According to Truth Revolt, she's even threatening to sue the site over its criticism of her because they, you know, quoted the book verbatim. The website even reports that Dunham's lawyers have already instructed them on exactly how to apologize by writing their mea culpa for them. The suggested apology is below:
"We recently published a story stating that Ms. Dunham engaged in sexual conduct with her sister. The story was false, and we deeply regret having printed it. We apologize to Ms. Dunham, her sister, and their parents, for this false story."
Of course, Truth Revolt or any other publication that quoted Dunham's book should stick to their guns given the author and her legal team have zero legs to stand on here. The author always wants all the praise but can't handle the kind of vilification she knew she'd get after portraying herself in such a way.
As a parent, I can safely advise all others to be sure not to allow Lena Dunham within 500 feet of your children. She's undoubtedly a little disturbed and uses shock value on steroids to somehow portray herself of some kind of complex artist. And if you want to have some real fun, go visit a parallel universe where 24-year-old Bristol Palin — who is of Dunham's generation — writes about touching her younger sister's vagina, or pleasuring herself in front of her, or using bribery to kiss her. Forget the media explosion or Twitter breaking, the Alaska National Guard would have to be called in for the next six months just to protect the family from a positively-giddy media alone.
There's a reason why so few people watch Girls. Primarily, it's because America — regardless of ideology, race or gender — seems to find its star deplorable and talentless.
I just hope this column doesn't mean a certified letter is coming to me from Dunham's legal team anytime soon.
— —
>> Follow Joe Concha on Twitter @JoeConchaTV
Have a tip we should know? tips@mediaite.com