Confirmed: Rachel Maddow Is Not In Creepy Buzzfeed Video Of Creepy Guy Videotaping Sunbathers
Confirmed: Rachel Maddow Is Not In Video Of Creepy Guy Videotaping Sunbathers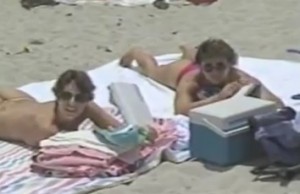 Recent visitors to the front page of viral trend aggregator Buzzfeed, which recently added Politico's Ben Smith to its staff, have been "treated" to a Silkwood shower-worthy YouTube video of a super-creepy guy videotaping a pair of sunbathers, one of whom the site alleges (but can't confirm) is MSNBC star Rachel Maddow. The woman in the short video does bear a striking visual and aural resemblance to the Forward-Leaning liberal icon, but Mediaite has confirmed that the reluctant star of the video is not Rachel Maddow.
RELATED: Whoa: Ben Smith Is Leaving Politico For BuzzFeed
In the brief clip, apparently shot in the early aughts, the woman sunbathing notices the voyeuristic videographer, and immediately says, "No."
"No what?" the guy wittily replies.
"I don't want my picture taken," the Maddow ringer says.
The jerk pervert zooms out, pauses, and says "I don't want your picture anyway."
I'm guessing his next line would have involved inviting her back to his place to check out his handsomely-bound collection of restraining orders.
The Buzzfeed post reads, "Filmed on South Beach in the early 2000s. Footage sent to us by Comedy Wizard. We cannot confirm this footage, but she's certainly a dead ringer for the MSNBC pundit."
I have to admit, the video had me going for a bit, partly because the woman in the clip was reading from a clipboard on the beach, which is the sort of geeky, offbeat thing you might expect Rachel Maddow to do. We checked with the star of The Rachel Maddow Show, and thankfully, it wasn't her. She also pointed out a great reason why it should have been obvious it wasn't her.
"Hahahahahahaha! No!" she said, via email. "That is neither me, nor my butt, nor would there be a peaceful ending to a conversation that started with some dude sneaking up on my butt with a camera. No, no no no no no god no."
That's a really good point, and it's worth keeping in mind that there's an excellent chance the next clip on that guy's camera was of an impromptu, involuntary colonoscopy.
Ben Smith seems to have his work cut out for him. Videos of people stalking fake celebrities doesn't strike me as the best way to win the morning.
Here's the clip, though be warned: you may feel a strong urge to put the lotion in the basket, lest you get the hose again:
Have a tip we should know? tips@mediaite.com