Conservative Group Releases Chuckle-Worthy Anti-Obama Ad: 'The Most Arrogant Man In The World'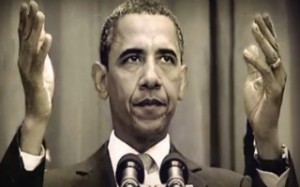 The conservative group Right Change has released an amusing political ad featuring President Barack Obama in a parody of the Dos Equis "most interesting man in the world" commercials. If you can divorce yourself from partisanship for the 60 seconds it takes to watch the web ad, It's actually entertaining and amusing.

RELATED: Romney Campaign Releases First Negative Ad Against Obama
"They gave him the Nobel Peace Prize without him doing anything and he took it," says the ad's announcer.
"He says he will tell Iran to stop making nukes and they will stop because he is just that good," the announcer continues. "He picked Joe Biden to be his vice president just to show that he doesn't really need one.
"You want precedent? He is the president," the ad announces in a slightly tired but all-together new again (within the context of the parody) use of wordplay.
"He is the most arrogant man in the world," the ad concludes. "Stay ignorant, my friends"
Right Change operates as both a 527 and a 501(c)4 charitable organization. The conservative group spent several million dollars in the 2008 presidential election cycle against then-Senator Barack Obama and Congressional Democrats.
Of course, this ad completely and efficiently destroys forever future parodies of the Dos Equis' cleaver "most interesting man" commercials. But it was probably worth it — especially since they were becoming rather tired already.
This web ad is a good example of that rarest of species — the mildly but genuinely funny political ad.
Watch the ad below via Right Change:
b
> >Follow Noah Rothman (@Noah_C_Rothman) on Twitter
Have a tip we should know? tips@mediaite.com