Conservatives Wetting Pants Over Old Video Of Eric Holder Blaming Media For Gun Violence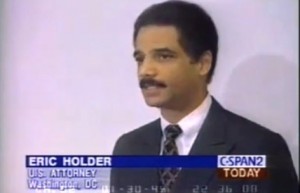 For some weird, undefinable reason, there doesn't seem to be anything Attorney General Eric Holder can do to get conservatives to agree with him, even by agreeing with them. Conservative outlets like Newsbusters, Breitbart.com, and The Blaze are in freakout mode over a 1995 video that they say shows Holder, then the U.S. Attorney for the District of Columbia, trying to "shame gun owners," and make them "cower like smokers."
Unfortunately, even the shorter version they're pimping now makes it clear that Holder wasn't talking about lawful, responsible gun ownership, but rather, combating the media's glorification of gun violence, particularly to young people.
The hot new video at MRCTV.org is 1995 footage of Attorney General Eric Holder, when he was the U.S. Attorney for the District of Columbia. In his remarks before the Woman's National Democratic Club, broadcast by CSPAN 2, Holder said people should be ashamed to own guns, just the way that cigarette smokes now "cower outside of buildings" to smoke.
The "hot new video at MRCTV.org," says the MRC's Newsbusters? Well, this, we gotta see! Let me just take a sip of Diet Rite, the hip new beverage I got from the RC vending machine.
Now, unless responsible, lawful gun owners carry guns in order to be "hip," and out of a media-driven "fascination with violence" and with guns, and are "particularly our young men," as Holder says, he is clearly not talking about them. He's talking about countering the violent movies and TV shows, which Wayne LaPierre agrees are to blame for gun violence, with messages that make carrying guns as symbols of coolness unacceptable. There's absolutely no ambiguity to what he is saying.
However, if this clip doesn't quite capture Holder's meaning well enough for you, there is a longer version available. Even though Newsbusters notes that their "hot new video" was "found" by Breitbart.com contributor Charles Johnson (not that Charles Johnson), this longer version was actually posted almost a year ago by… Breitbart.com editor Joel Pollak. I guess Johnson, like most people, doesn't read his own site.
In the extended tape, Holder repeatedly underscores that he is talking about "youngsters," encouraging them to report other young people who are carrying guns, and discusses working with school boards on anti-gun messaging. He even references airing commercials during popular programs like The Fresh Prince of Bel Air and Martin, a reminder of just how long we've been having this discussion.
I started a drinking game for every time Holder references local young people in this video, but I ran out of rum and Diet Rite. For some reason, it doesn' t matter what Barack Obama's Attorney General, Eric Holder, says or does, conservatives just hate, hate, hate him. They hate him so much, they even forget they already hated him for the thing they newly hate him for. This outrage is not only fake, it' s recycled. Not only did Breitbart.com already cover this "hot new video" in March, so did The Blaze. The intervening months haven' t improved their comprehension skills any.
Have a tip we should know? tips@mediaite.com