Contractors Try to Amend Mistake After Demolishing Part of Bill of Rights Birthplace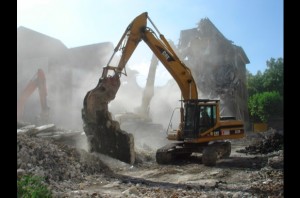 If you thought democracy died a little after watching last week's debate, then this is really going to bum you out. In what appears to be an act of simple indifference, a building that was supposedly the birthplace of the Bill of Rights was partially demolished because the owners of the property didn't know they owned the purported birthplace of the Bill of Rights:
On Jan. 6, workers began demolishing a two-story stone house at 7086 Carlisle Pike in Silver Spring Township that most recently was the site of Stone House Auto Sales.

This just isn't any stone house, however. Built in 1780 as the James Bell Tavern, the structure hosted the Stony Ridge Convention on July 3, 1788, a meeting of Anti-Federalists opposed to ratification of U.S. Constitution, which led to amending the document with the Bill of Rights.

Triple Crown Corporation, the property's owner, legally obtained a permit from the township for the demolition, according to Christine Musser, a member of the township's Conservation and Preservation Committee.

Musser said she was informed about the stone house's history by an "outside source." After "doing some digging" about the matter at the Cumberland County Historical Society, she alerted township officials about the matter.
The demolition, which the developers called "an oversight," has been put "on hold."
When asked for comment on the demolition, Republican frontrunner Donald Trump expressed regret, saying "That's a shame, I love the Bill of Rights. Especially the 'Two Enn-Dee Amendment,' that's my favorite."
(h/t Fox.com)
[image via Wikipedia Commons]
Have a tip we should know? tips@mediaite.com