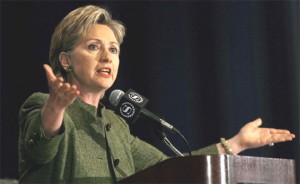 In the Daily Beast this morning, contributor Reza Aslan has a piece examining the troubling situation of Christian Iraqis — and charges that he says Hillary Clinton is aware of the situation but unwilling to take action to stop it. Aslan charges that "A full-scale genocide is under way in Iraq: a well-planned, well-financed, deliberate plot to cleanse the country of its Christian citizens," and that both the US and Iraqi governments refuse to do anything about it. Aslan writes:
Christians are a small but historic part of the religious fabric of Iraq. Although they make up only about 1 percent of the population, Christians have been in this part of the world for 2,000 years, as evidenced by the stunningly beautiful churches and ancient monasteries that dot the Iraqi landscape. The town of Mosul is mentioned in the Bible, where it is known as Nineveh. And, to this day, some Iraqi Christians continue to speak Aramaic, the language of Jesus.

But now this historic community is on the brink of extinction. Since the American invasion in 2002, more than half of Iraq's Christians have fled the country. The Christian community, like everyone else in Iraq, was caught up in the ethnic war that erupted in 2004 between the Shiites and Sunnis, and they have frequently been targeted both by Iraqi militants and by the mostly foreign fighters who constitute al Qaeda in Iraq. But Iraq's Christians have not experienced anything like the deliberate targeting of their community over this past year. Hundreds of Christians have been murdered in 2010 and thousands more have left the country, fearing for their lives and the lives of their loved ones.

Despite this unprecedented bloodshed, little effort has been made by the Iraqi or U.S. governments to secure the livelihoods of Iraq's Christians. "I blame the government for all these attacks. It's a very weak government and it can't protect us," Zeya Moshi, an Iraqi Christian, told the Christian Science Monitor. After meeting with Maliki, the Syrian Archbishop Matti Shaba Matoka sounded less than confident in the government's ability to protect his congregation. "The security authorities promised to protect us, but we don't know what kind of procedures they've put in place," he told the Christian Science Monitor.
Read the full story at the Daily Beast here.
Have a tip we should know? tips@mediaite.com