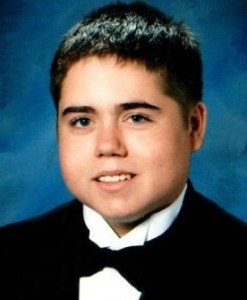 FishbowlDC's Betsy Rothstein has the inside line on a bit of good-natured hazing that's being inflicted on The Daily Caller's Matthew Boyle. The DC's media writer, Jeff Poor, has changed his Twitter avatar to a cheesy pic of Boyle in retaliation for Boyle's "douchey" use of a screenshot from a TV appearance as his Twitter pic. While the TV screenshot avatar is a popular subject for needling among non-TV media peeps, does using a TV spot to promote yourself really qualify you for a Massengill Award™?

From FishbowlDC:
The Daily Caller's Matthew Boyle is the subject of an office prank that began this weekend when a colleague switched his Twitter avatar to an old picture of Boyle in a fake tux. The publication's TV media writer, Jeff Poor, says he refuses to change his picture back to his own until Boyle removes his current avatar, although he concedes he will grow tired of seeing Boyle's picture every time he tweets. "We advised him not to use a screen shot from TV as his avi (seems douchey) and he did it anyway," Poor told FishbowlDC, explaining the joke's origin.

Boyle, meanwhile, isn't having his life hijacked by his coworkers. He's holding fast to his new avatar, a picture of an appearance on Fox News.
The use of TV appearance as Twitter avatar is one of the surest ways to get your chops busted by colleagues, so while I got a laugh out of Poor's protest, it made me wonder if the offense is really all that douchey. A quick review of the hundreds of media people I follow on Twitter turned up only two such avatars. Liberal Real McCain author Cliff Schecter uses a shot from an MSNBC hit, but the shot is of his entire computer desktop, so maybe Cliff was just in a hurry. The other one is HuffPo's Sam Stein, who uses what looks like an appearance on PBS from when he was in the eighth grade. I can say, without fear of contradiction, that Sam is about the least douchey person I know in Washington, DC, so his use of a screenshot seems to disprove its douchiness.
There are, of course, perfectly legitimate reasons to use a screenshot from a TV appearance. Aside from the one-stop branding info that's typically in the lower third, they're quick and easy to put up, and often, you look better than in real life from the TV makeup.
My biggest objection, though, is the idea that "douchey" is an undesirable trait. I took some guff when I used a TV screenshot for my Twitter avatar awhile back, and although I professed to be satirizing egotism (it was from C-Span 3), it was totally a douche move. In fact, the only reason I replaced it was because I found an even douchier avatar: a cutesy, fake "thinking" pose from a fashion photo shoot.
So I stand with Matthew Boyle on this one. He should use whatever picture he wants on his Twitter account. At least he's not using a still from some movie he was in, right?
Have a tip we should know? tips@mediaite.com