Daily Caller Uses 'Syria-sly Hot' Alleged Refugees to Change Governors' Minds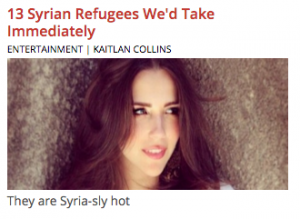 Conservative news site The Daily Caller stirred up the Internet reaction machine on Wednesday when it published a blog post of aggregate Instagram images titled "13 Syrian Refugees We'd Take Immediately."
Entertainment editor Kaitlan Collins wrote "while a growing list of governors are claiming they won't allow Syrian refugees to enter their states, we think these women might make them change their minds."
How so? Well, since the 13 supposed Syrian refugees were "Syria-sly hot," Collins felt her faux counterpoint to those American governors who oppose the White House's Syrian refugee resettlement program.
Twitter has already spent considerable time pointing out what it dislikes about the post to Collins and The Daily Caller. (We'll get to that in a second.) However, there's the matter of whether or not these women are Syrian, let alone Syrian refugees.
All 13 pictures come from the Instagram account syrian_girls, which claims to "show the rest of world the beauty of our queens." The first image was posted on Aug. 13, 2013, during the midst of the ongoing Syrian Civil War, which initially began after the Arab Spring protests in 2011. The timing lends some credibility, but that's where it stops. Images were posted sporadically in batches, and considering the numerous photography styles (and the existence of various watermarks), it's a sure bet that these aren't original photos.
In fact, syrian_girls is mostly likely an aggregate account, and its research methods for finding its "queens" probably consists of Google Image searches using a key phrase similar to "hot Syrian women."
Being nit-picky about source material notwithstanding, what most people are pissed about is the post's implication that the U.S. should accept Syrian refugees because they're "Syria-sly hot."
Yes, @DailyCaller feeds on clickbait &outrage. Usually: #yawn. But just this once–do better. Take "Syria-sly hot" refugee pic piece down.

— Jennifer L. Pozner (@jennpozner) November 18, 2015
Delete your page, @DailyCaller. This is disgusting. "They are Syria-sly hot." https://t.co/yHDXCl1Kvx #refugees pic.twitter.com/ldXAUAtPBm

— Brian Ries (@moneyries) November 18, 2015
The Daily Caller is Syria-sly racist and sexist: https://t.co/TOuOZzGtW1

— Chloe Angyal (@ChloeAngyal) November 18, 2015
"They are Syria-sly hot." https://t.co/ngxiy20I2e pic.twitter.com/h0vNOV0NQX

— Jared Keller (@jaredbkeller) November 18, 2015
Is this a joke from the @DailyCaller ?!!? "13 #SyrianRefugees we'd take immediately… they're Syria-sly hot" https://t.co/v8ix3XyQJo

— Cleo Stiller (@Cleomsf) November 18, 2015
At one point, International Business Times reporter Brendan James tweeted at Collins and Daily Caller reporter Juliegrace Brufke, asking how they felt about the story.
Curious how Daily Caller's female staffers @kaitlancollins @juliegraceb feel about this (it's in Collins' section) pic.twitter.com/KTFdbteek0

— brendan james (@deep_beige) November 18, 2015
Collins reminded James that she wrote the post.
@deep_beige @juliegraceb Well considering I wrote it…

— Kaitlan Collins (@kaitlancollins) November 18, 2015
James asked if Collins had pitched the post in the first place, but she has yet to respond.
[h/t The Daily Caller]
[Image via screengrab]
— —
>> Follow Andrew Husband (@AndrewHusband) on Twitter
Have a tip we should know? tips@mediaite.com