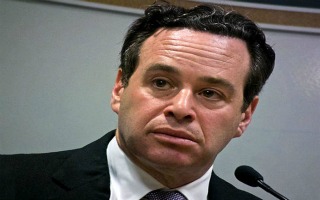 David Frum, DailyBeast columnist and former White House speechwriter for President George W. Bush, hosted a live question-and-answer session on the social media network Reddit on Thursday. However, the thread quickly descended into mockery and hyperbolic commentary – precisely the kind of discourse that Frum has spent so much of his post-White House career railing against.

RELATED: David Frum On Romney's Jimmy Carter Line: He Needs Better Writers
Promoting his new novel, Patriots, about an idealistic new president who is quickly disabused of his reformist notions by the more cynical members of his party in Congress, Frum took to Reddit to answer questions about nearly everything.
Frum first introduced himself to his audience as a compromise-oriented moderate:
I've lived my political life inside the conservative world. I continue to identify as a Republican and conservative. Yet I've been deeply troubled by the direction of the party since 2008. You can read a statement of my concern here in an article I wrote for New York magazine last fall. In 2009, I founded a website, FrumForum, to define and articulate a more modern and inclusive Republicanism. My writings in 2009-2010 urging a compromise on Obamacare led to my forced resignation from the American Enterprise Institute in March 2010.
Frum was berated by commenters, who hounded him on the grammatical consistency of his responses rather than the substance (a favored internet commenter pastime):
[–]fourthbewithyou 29 points 2 hours ago
Hello. Thanks so much for coming in to talk to us.
I'm wondering two quick things:
1. How has being Canadian (and the son of a rather well known and respected Canadian journalist) influenced your views of the US political system?
2. How can the Republican party restore itself since the turn for the worse you mention in 2008?

[–]DavidFrum[S] 32 points 2 hours ago
I'll start with part 1 here. My mother one of the hugest influences on my thinking, if not the very hugest. She represented to me the very pinnacle of integrity, both intellectual & moral. A story: Early in her career, she was offered a big contract to become a spokesperson for a major advertiser. She came home that night and told my dad that she'd refused. He asked, "How much did they offer." She said, "The conversation didn't go that far." I think of that whenever I hear TV & radio personalities touting gold coins at big mark-ups to their trusting audiences.

Canada too is a large influence on me. Canadians I think are less likely than Americans to take political stability for granted. There are so many ways Canada could crack up! The kind of Russian roulette politics we've seen in US since 2009 (ie, debt ceiling game of chicken) horrifies me, and Canada may well explain why.

[–]Dunavks 10 points 1 hour ago
"Very hugest"? Seems odd to hear such a phrase from a writer.

[–]Enthusiastically 5 points 44 minutes ago
most hugestest.

[–]seeasea 3 points 58 minutes ago
writers have the freedom to play with words. Just ask Shakespeare.

[–]AHCretin 3 points 46 minutes ago
Speeches get edited. Reddit posts, not so much.
Frum was asked if he had any regrets about his part in the Iraq war, to which he responded that Iraq was an "optional war" and "war would have come with me or without me."
Commenters responded to this by questioning what he meant by "optional war," suggested he could have "doused [himself] with gasoline and set [himself] ablaze on the South Lawn" and made a "valid albeit completely sociopathic case," for the war.
Frum was asked to weigh in on cable news and CNN in particular. He responded that he had invented a Fox News-like cable television network in his novel that served to keep its viewers uninformed.
I admire and applaud the CNN mission: to try to present informational TV in a way that is not aggressively ideological. One of the villains of my book is the head of a (fictional!) cable news network called Patriot News. My protagonist Walter unwisely has a brief affair with his mistress. She explains the radical nihilism of so much of modern media. Patriot News is a kind of Facebook for old people, not a source of information, but a source of community for people who feel threatened and frightened. They don't want facts. They want myth.
Frum was told he had "no place in punditry or politics" as a compliment and "You sound an awful lot like a moderate Democrat to me" as an insult.
Frum's Q&A session is ongoing at Reddit, for those that would like to join in the fun.
h/t Reddit
Have a tip we should know? tips@mediaite.com