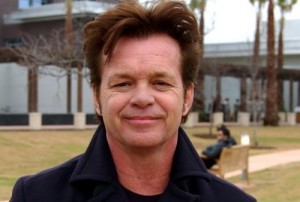 On the heels of Senator Evan Bayh's (D-Indiana) announcement of his impending breakup with Congress, and the accompanying lurch it leaves Democrats in, a movement has sprung up to draft heartland rocker John Mellencamp to run for the seat. Shortly after Bayh's announcement, a "Draft John Mellencamp for Senate!" Facebook page appeared.
Crazier things have happened, and just how crazy is this, anyway?
Conventional wisdom would argue against Mellencamp politically, as he's on record as not thinking Barack Obama or Hillary Clinton were liberal enough. However, he has some strong positives as a candidate in Indiana.
First of all, you can't beat him for name recognition, especially now that he has settled on one.
He's well-positioned to take advantage of the powerful but ill-defined populist atmosphere among voters. Both in the state and nationally, Mellencamp has generated a lot of goodwill with working people by virtue of his Farm Aid concerts, and he's managed to retain working-class authenticity despite being a superstar.
As Daily Kos diarist jolculbe points out, he also doesn't have a record to run from. With anti-incumbent sentiment running high, being a total outsider might be an advantage.
Finally, aside from his utter lack of experience, not the liability it once was, Mellencamp is tough to assail. His heartland street cred is so great that, despite his political leanings, John McCain made heavy use of Mellencamp's catalog at campaign events before being asked to stop. The guy's image is as American as it gets.
Plus, who wouldn't look forward to campaign ads featuring "Jack" and "Diane" talking financial reform at the kitchen table, or rocking out to re-tooled Mellencamp classics like "Healthcare in the USA?"
Have a tip we should know? tips@mediaite.com