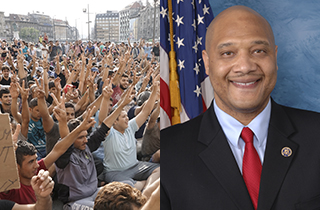 Rep. Andre Carson said today the passage of the Syrian refugee bill last week by the House of Representatives reflects "a deep kind of bigotry" forming in the wake of November's terror attacks in Paris.
"I think what the bill effectively attempted to do in the aftermath of what we're seeing from ISIL was really stop and discourage refugees from Syria and Iraq from coming into our country," Carson told Sirius XM radio host Dean Obeidallah."We know that we have families who are trying to escape the horrors of ISIS and the Assad regime."
Carson, a Muslim Democrat from Indiana, said over the last several years the refugee screening process "has been significantly enhanced," insisting in order to be considered for admission to the US, refugees of all nationalities "have to undergo very rigorous screening and security vetting."
"It takes one to two years before they even set foot on U.S. soil," Carson noted.
"I think that the Republicans in their bill, they want to shut down the resettlement of any refugees from Syria and Iraq and really hinder and handicap any future settlements," Carson said, adding that he thought the "bill was very draconian."
Carson said since 2013, about 2,200 refugees have been relocated to the United States, "and half of those were children."
"So you have families that were driven out of their homes by the disgraceful war in Syria, and ISIS's — or [Islamic acronym for ISIS] Daesh's — brutal rule, and a quarter of those refugees are over 60," Carson said. "So they've proven to be law abiding citizens and we've not had any problems."
"I think what's taking place is a deep kind of bigotry that is evolving and hardening into the political landscape," he added.
Listen to the audio above, via The Dean Obeidallah Show.
[h/t Buzzfeed]
[Images via Wikimedia Commons]
—
>> Follow Elizabeth Preza on Twitter (@lizacisms)
Have a tip we should know? tips@mediaite.com