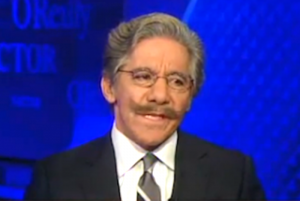 Fox News personality Geraldo Rivera alleged that new executives at WABC/New York, where he hosted a daily radio show on WABC 770, fired him and locked him out of the studio.
Rivera made the accusations public on his Facebook page on Nov. 25, the day before Thanksgiving. That's when he was informed by Cumulus Media CEO Mary Berner and New York VP Chad Lopez "that they do not intend to honor the handshake deal I made with the ousted company chief John Dickey, an agreement to extend my current contract for a year."
"The decision to renege on our deal on the eve of Thanksgiving is especially upsetting," said Rivera, "coming in the wake of my emotionally charged and highly rated coverage of the Paris massacre and frantic efforts by authorities to bring the perpetrators to justice."
In a subsequent Facebook post on Saturday, Rivera praised the medium of radio while lamenting Cumulus Media and WABC's business practices. He also commended the "honorable" John and Lew Dickey, the former heads of the station.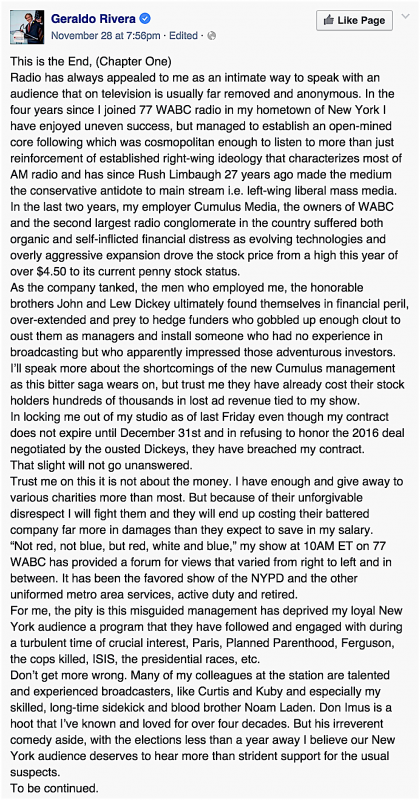 Rivera also claimed that WABC had locked him out, literally.
In locking me out of my studio as of last Friday even though my contract does not expire until December 31st and in refusing to honor the 2016 deal negotiated by the ousted Dickeys, they have breached my contract.

That slight will not go unanswered.
The Fox News personality didn't explicitly say he would sue Cumulus Media, WABC or both, but his wording in the Facebook post suggests as much.
[h/t All Access]
[Image via screengrab]
Have a tip we should know? tips@mediaite.com