Democratic Party Mocked For Accidentally Using Photo of Hardiman in Article Slamming Kavanaugh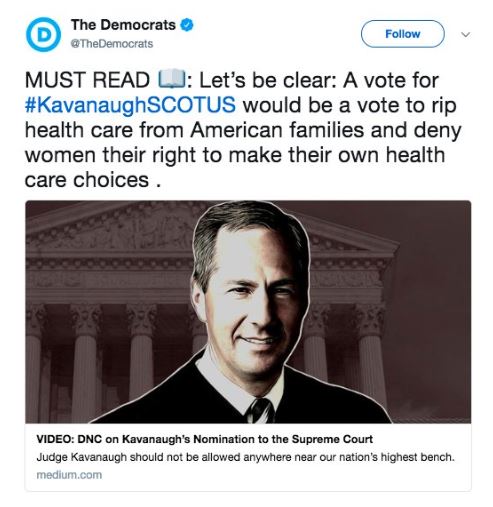 The official Twitter account for the Democratic Party tweeted an article blasting President Donald Trump's Supreme Court nominee Judge Brett Kavanaugh that erroneously included a cover photo of Judge Thomas Hardiman, who was not nominated for the highest bench.
"MUST READ: Let's be clear: A vote for #KavanaughSCOTUS would be a vote to rip health care from American families and deny women their right to make their own health care choices," tweeted the Democratic Party's account — along with the image of Hardiman.
Kavanaugh, who Trump named as his pick last night, serves on the US Court of Appeals for the D.C. Circuit, while Hardiman, who was one of the president's known candidates to replace Justice Anthony Kennedy, serves on the US Court of Appeals for the Third Circuit.
After much mockery — including from GOP Senator Orrin Hatch — the Democratic Party's account eventually deleted the post. Check out a few of the posts from Twitter personalities knocking the mishap below:
"Fill in the blank" opposition keeps getting people in trouble.

That's not even Judge Kavanaugh. https://t.co/ep8vAzootd

— Senator Hatch Office (@senorrinhatch) July 10, 2018
(that's not Brett Kavanaugh) pic.twitter.com/jHXsAhEkZV

— Joe Perticone (@JoePerticone) July 10, 2018
Let's be clear: the Democrats are so inept that they can't even get their message straight because they can't tell the difference between Judge Kavanaugh & Judge Hardiman. pic.twitter.com/bKDhOwTB35

— Eric Lawson (@EL001) July 10, 2018
His Twitter account was just making fun of Democrats for mixing up photos of Kavanaugh and Hardiman.. https://t.co/OH57YrFvA4

— Igor Bobic (@igorbobic) July 10, 2018
Official Democrat Party blog post uses wrong image for scaremongering story on Supreme Court nominee Brett Kavanaugh. Uses photo of Judge Thomas Hardiman instead. Tweeted and Deleted — screenshot: pic.twitter.com/MRlb8ax36O

— Warner Todd Huston (@warnerthuston) July 10, 2018
That is a picture of Hardiman, not Kavanaugh pic.twitter.com/IHhb0uhI2k

— Josh Billinson (@jbillinson) July 10, 2018
Oh man, @TheDemocrats really suck. That's Thomas Hardiman they photoshopped to look scary, not Brett Kavanaugh (via @thejcoop) pic.twitter.com/BzvqyJpFVh

— Brent Scher (@BrentScher) July 10, 2018
[image via screengrab]
Follow the author on Twitter (@calebecarma).
Have a tip we should know? tips@mediaite.com