Despite Spicer's Claims, Trump Suggests the Word 'Ban' Is Appropriate: 'Call It What You Want'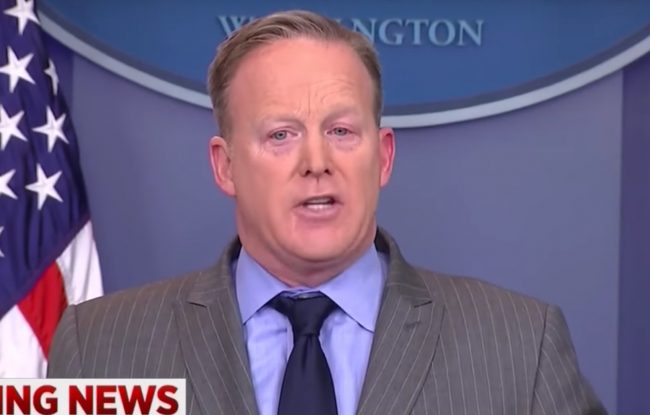 Poor Sean Spicer.
The newly-installed press secretary is trying his absolute hardest to keep up with his tornado of a boss, the 45th President Donald Trump, whose exhausting volley of he-said-he-said is enough to drive any PR pro to fits. Spicer's responsibility is an unenviable one; like the slew of campaign surrogates before him, he must face the press daily and justify the latest Trumpisms.
Yesterday, the issue on the table stemmed from the language used to describe the President's immigration executive action, which restricted Syrian refugees indefinitely and banned citizens from seven Muslim-majority countries from entering the United States. Spicer told the gathered press corps Tuesday that the action is not a "ban," furthering, "it's to make sure people who are coming in are vetted properly, a ban would mean people can't get in."
But as NBC's Kristen Welker correctly pointed out, both President Trump and Spicer alike have used the word "ban" in recent days to describe the action. POTUS took to Twitter on Monday to write, "If the ban were announced with a one week notice, the 'bad' would rush into our country during that week. A lot of bad 'dudes' out there!" while the press secretary himself admitted Monday night, "One, the ban deals with seven countries that the Obama administration had previously identified as needing further travel restrictions."
That didn't stop Spicer from being combative Tuesday, especially after Welker noted firmly, "The president himself has called it a ban. Are you confused or is he confused?"
Spicer fired back:
"Those are the media's words. No, I'm not confused. Those words are derived from the media. Your network was one of the ones that just hours ago said [Homeland Security Secretary] Kelly didn't know what was going on. With all due respect, I think you have been part of the confusion."
And now, it is the Commander in Chief himself who is shrugging off all the hard work that his press secretary did just a day ago.
Everybody is arguing whether or not it is a BAN. Call it what you want, it is about keeping bad people (with bad intentions) out of country!

— Donald J. Trump (@realDonaldTrump) February 1, 2017
"Call it what you want," he casually asserted on Twitter moments ago. If you listen real hard, you can hear the sound of Sean Spicer's palm smacking his forehead all the way from D.C.
—
J.D. Durkin (@jivedurkey) is an editorial producer and columnist at Mediaite.
This is an opinion piece. The views expressed in this article are those of just the author.